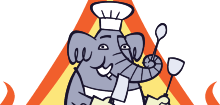 ImportFood.com

ImportFood.com
Thai Stir-Fried Wide Rice Noodles, 'Pad Si-iew'

Buy ingredients for this recipe!

Siew means soy sauce in Thai. This recipe is very tasty and savory, and you can watch our street vendor videos to master it quite easily with a lot of practice. It's definitely worth the effort. Many restaurants or street vendors may prepare it without marinating the meat first, so that's really not necessary. Our version here is an elegant style that takes more time to prepare.

Marinade

1-1.5 tablespoons freshly grated ginger
3-5 cloves garlic, minced
1 tablespoon tapioca starch
3-5 cloves garlic, minced
1 tablespoon rice cooking wine
1 tablespoon fish sauce
2 tablespoons dark sweet soy sauce
1 tablespoon oyster sauce
1 tablespoon palm sugar
1 teaspoon sesame oil
1/2 teaspoon freshly ground black pepper
1 tablespoon chopped green onions
1 tablespoon chopped shallots

Marinade 1.5 cup ounces of thinly-sliced beef, pork, or meat of your choice in the marinade for about an hour.

Ingredients

Marinated meat (above)
16 ounces wide rice noodles
2 tablespoons sweet dark soy sauce
2 cups broccoli florets
2 tablespoons fish sauce
1 tablespoon palm sugar
1 tablespoons oyster sauce
2 eggs beaten
1/2 teaspoon Thai pepper powder

Method

Soak the noodles in warm water for 30 minutes then rinse in cold water. Add noodles to a pot of boiling water and boil for 1 minute, then rinse in cold water again. Transfer to mixing bowl, separate the noodles and toss thoroughly with sweet soy sauce. Set aside.

Heat the wok and a little oil to stir fry the marinated meat until it just begins to cook. Add the noodles, cook quickly then add broccoli and stir again. Push the noodles and broccoli to the sides of the wok to open up the middle, then add beaten eggs. Spread the eggs a little cook for a moment. Just before the eggs set, fold all the noodles and broccoli together and stir well with remaining ingredients.

Transfer to serving plate. Sprinkle with Thai pepper powder and serve with prik dong (important to have prik dong on the side, and each person can spoon a little bit over their portion, depending on how they like it).

NEW: Amazing Elephant Tom Kha Pouch.

NEW: Amazing Elephant brand "Tom Kha" Soup -- It's All In The Pouch. After years of development and investing in America, we are happy to introduce this ready-to-eat, premium quality, authentic and delicious Tom Kha soup made in small batches using the highest quality ingredients. Amazing Elephant brand puts everything in the pouch and cooks it to perfection.

To heat, simply put the pouch in boiling water for 3 minutes then open and serve alone or over rice. You can also microwave it for 90 seconds. It's all inside, so you don't need to add a thing.

This all-natural, gluten-free, preservative-free soup is precooked in a modern BPA-free pouch that's shelf stable for two years but tastes like it was just made fresh in a Thai grandmother's kitchen. Premium ingredients and sophisticated preparation ensure that this rivals anything a Thai restaurant serves.

More Info About Our Amazing Elephant Tom Kha

Thai Street Vendor Video

All of our videos can be found in our Thai Street Vendor Videos section.

Email This Recipe

Send this recipe to yourself or a friend.

Comments

DR ANIL GUPTA MD,FACP(USA) CARDIOLOGIST

October 1st, 2008
1:42 AM

Susanne

March 7th, 2009
7:09 PM

The truth

October 11th, 2010
3:19 PM

Anonymous

November 1st, 2010
8:45 PM

Anonymous

December 17th, 2011
10:10 PM

Love to cook

January 8th, 2012
7:03 PM

Kay

January 22nd, 2012
3:20 PM

Jim B from Frontenac, Ks.

May 12th, 2012
10:21 AM

Wade from Dallas, NC

June 6th, 2013
6:40 PM

Thai man

June 19th, 2013
3:10 PM

Gary Z

October 31st, 2013
10:00 PM

CC

November 11th, 2013
8:48 PM

Victor Van Natter

August 6th, 2015
5:39 PM

Anonymous

November 1st, 2015
5:49 PM

Add a Comment

Related Recipes

Thai-Style Wide Noodles In Thick Sauce, 'Lad Na'

Thai Beef Salad, 'Yum Nuea'

Thai Pepper Steak, 'Neua Pad Prik'

Sweet & Sour Spareribs, 'See Klong Priao Wan'

Essential Thai Pantry

| | |
| --- | --- |
| | See the ingredients and cookware that every Thai kitchen should have. |

Find Another Thai Recipe

Search By: Name | IngredientsNeed more help? Check out our Thai Recipe Helper

Start typing the name of the recipe you are interested in.