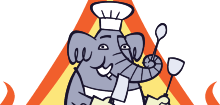 ImportFood.com

ImportFood.com
Assorted Thai Table Condiments

Buy ingredients for this recipe!

In Thailand the first two condiments below (Nam pla prik and Prik dong) are likely be on every household's table together with a separate small dish of plain white sugar and a separate small dish of ground chili powder. Spoonfulls of each are added to suit individual taste. We suggest you make a portion of Nam pla prik and Prik dong and keep in a jar (non refrigerated) for serving as a condiment in this manner. These condiments keep very well.

Prik Si-iew wan, kratiem dong and Khing Ki mao are less common and usually served for particular dishes.

Our Thai Condiment Caddy is a nice way to serve these.

Nam pla prik

In Thailand, Nampla Prik is served on the side in a little dish, not in the condiment caddy.

Ingredients:
1 small shallot sliced
1 clove garlic, finely chopped
13 fresh Thai chile, sliced
7 tablespoons fish sauce
4 tablespoons lime juice

Mix all ingredients together. Serve in a little dish for each diner. Shown above right with our unique Thai stainless spoon.

Prik namsom

This Chili/Garlic/Vinegar sauce is similar to the common Chili Garlic Sauce sold in supermarkets.

Ingredients:
1 cup Fresh RED chiles
1/2 tablespoon sugar
1/4 cup garlic, peeled
1 3/4 cups white vinegar
1/2 teaspoon salt


Pound garlic then chiles in a mortar & pestle. Add remaining ingredients, stir well.

Prik dong

Put two thirds of a cup of Thai chile peppers in a 1 pint jar, and fill with white rice vinegar. We aso offer a ready-made prik dong.

Prik si-iew wan

Put two thirds of a cup of jalapeno peppers in a 1 pint jar, and fill with sweet dark soy sauce.

Kratiem dong

Peel and slice two thirds of a cup of garlic, place it in the 1 pint jar, add 1 teaspoon of palm sugar, and one teaspoon of salt and half a teaspoon of MSG (optional but recomended) and topped up with white rice vinegar. We do offer a ready-made kratiem dong.

Khing ki mao

Julienne two thirds of a cup of fresh ginger (into match stick sized pieces). Place in the 1 pint jar. Add half a cup of whiskey (rice whiskey if available). Add 1/2 cup white rice vinegar, and fill up the jar with fish sauce.

Email This Recipe

Send this recipe to yourself or a friend.

Comments

david

September 17th, 2014
9:07 AM

Anonymous

July 13th, 2016
6:42 AM

Blake

November 17th, 2016
7:55 PM

Add a Comment

Related Recipes

Thai Nine Flavored Salad, 'Thai Salad Dressing'

Thai Beef Noodles Soup, 'Kuaitiao Neua'

Thai Beef Salad, 'Yum Nuea'

Steamed Fresh Fish and Vegetables Thai-Style with Dipping Sauce

Essential Thai Pantry

| | |
| --- | --- |
| | See the ingredients and cookware that every Thai kitchen should have. |

Find Another Thai Recipe

Search By: Name | IngredientsNeed more help? Check out our Thai Recipe Helper

Start typing the name of the recipe you are interested in.