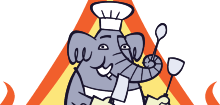 ImportFood.com

ImportFood.com
Pad Thai Recipe

Buy ingredients for this recipe!

Pad Thai is often called the signature dish of Thai cuisine. There are several regional variations, indeed it has been said that Thailand has not only a different curry for every day of the year, but also a different pad Thai for every cook in Thailand! This is our variation, and please see our street vendor photos & videos (below) for others.

For simple, fast, easy-to-prepare Pad Thai, we have two time-saving versions:
Use our prepared Pad Thai Sauce
Use Mama brand instant Pad Thai
Try Lobo Instant Pad Thai with Peanuts

Our version of Pad Thai is tried-and-true, follow these directions and you'll be amazed at the results. As with many Thai chefs, we prepare our own Pad Thai Sauce first.

This recipe requires dry roasted, unsalted peanuts. For best preparation, coarsely break them up in a stone mortar and pestle.

First, prepare your Pad Thai Sauce:

Ingredients for Pad Thai Sauce (makes four large servings)

1/4 cup palm sugar
1/4 cup fish sauce
1 tablespoon tamarind concentrate
1/4 cup Sriracha sauce (We use Shark brand. Use less for a mild taste)

* Note: we also sell a premade Pad Thai Sauce which works great

Method for Pad Thai Sauce

Put tamarind concentrate into a measuring cup, and add enough water to make 1/4 cup, stir, this is your tamarind juice.

In a small sauce pan, put palm sugar, fish sauce, tamarind juice, and sriracha sauce. Cook on low heat until the palm sugar dissolves, then increase heat. Let it start to boil, then quickly remove from heat, and set aside. You can make this Pad Thai sauce ahead and put in a jar in the fridge up to a week.

Ingredients for Pad Thai (makes 2 servings)

1 egg lightly beaten
3/4 cup (or more) fresh shrimp, uncooked
1 tablespoon sliced shallot
1 tablespoon chopped salted radish
1/4 cup diced firm tofu
1 handful rice stick noodle
1/4 cup plus 2 tablespoons water
1 cup fresh bean sprouts
1/4 cup fresh chives, cut into one inch long pieces
1 tablespoon sugar
2 tablespoons chopped roasted peanut
vegetable oil for frying

Method

Rinse the radish several times under cold water, gently squeezing off the water. Chop it and add a little bit of sugar to sweeten, mix well.

Soak the rice stick noodle in warm water for about 15 minutes, leave in water until you are ready to use.

Heat 1 tablespoon of oil in a wok at medium-high heat. Add egg and cook it quickly, scrambling into small pieces (see video below). Remove, set aside.

Add 2 tablespoons of oil in the same wok. Add shrimps and cook until done. Transfer to a bowl, set aside.

Add 1 tablespoon of oil to the wok. Add shallot, radish and tofu fry until aromatic. Increase the heat of your wok. Add a handful of soaked noodles followed with water. Stir-fry this mixture for about 5-6 minutes. The noodles will start to get soft. Add 1/4 cup of Pad Thai Sauce and mix well. Add sugar, cooked egg, bean sprout, chive and cooked shrimps. Stir well for another 1-2 minutes until everything blends together. Turn off heat, transfer to serving plate with sliced fresh lime, roasted peanuts, and more bean sprout on the side. Now dazzle your friends with the fact that your Pad Thai looks and tastes just as good as any restaurant. Enjoy!

You may add Thai chili powder, sugar and crushed peanuts at the table on the side.

NEW: Amazing Elephant Tom Kha Pouch.

NEW: Amazing Elephant brand "Tom Kha" Soup -- It's All In The Pouch. After years of development and investing in America, we are happy to introduce this ready-to-eat, premium quality, authentic and delicious Tom Kha soup made in small batches using the highest quality ingredients. Amazing Elephant brand puts everything in the pouch and cooks it to perfection.

To heat, simply put the pouch in boiling water for 3 minutes then open and serve alone or over rice. You can also microwave it for 90 seconds. It's all inside, so you don't need to add a thing.

This all-natural, gluten-free, preservative-free soup is precooked in a modern BPA-free pouch that's shelf stable for two years but tastes like it was just made fresh in a Thai grandmother's kitchen. Premium ingredients and sophisticated preparation ensure that this rivals anything a Thai restaurant serves.

More Info About Our Amazing Elephant Tom Kha

Thai Street Vendor Video

All of our videos can be found in our Thai Street Vendor Videos section.

Thai Street Vendor Photos

Email This Recipe

Send this recipe to yourself or a friend.

Comments

Anonymous

June 4th, 2009
1:18 AM

Dylan

August 9th, 2009
11:24 AM

Anonymous

August 13th, 2009
8:16 PM

Audrey Macpherson

August 24th, 2009
2:35 PM

Peter

September 18th, 2009
4:40 PM

Anonymously LoLiTa

October 20th, 2009
10:39 PM

redgiant

October 26th, 2009
12:00 PM

Tanja

December 21st, 2009
3:27 PM

nancy

February 2nd, 2010
12:18 AM

Naree kongtha

February 17th, 2010
3:55 AM

Debbie Stein Mueller

April 4th, 2010
3:44 PM

Sue Harrison

April 4th, 2010
3:44 PM

Randy Zdrojewski

April 4th, 2010
3:44 PM

Jennifer Irwin Blakeney

April 4th, 2010
3:45 PM

Alison Lauer

April 4th, 2010
3:45 PM

Joe Gill

April 4th, 2010
3:46 PM

Nate Porter

April 4th, 2010
3:46 PM

Joe Gill

April 4th, 2010
3:46 PM

Scott Jay Regner

April 4th, 2010
3:47 PM

Cathy Dunlap Carter

April 4th, 2010
3:47 PM

Lauren Leach-Steffens

April 4th, 2010
3:47 PM

Brandon Pyser

April 4th, 2010
3:49 PM

Jen Towers

April 4th, 2010
3:49 PM

Lucie King

April 4th, 2010
3:50 PM

Daniel Mueller

April 4th, 2010
3:50 PM

Sarah Spelbring

April 4th, 2010
3:50 PM

BigSilverHotdog

May 10th, 2010
4:46 AM

Anonymous

August 28th, 2010
11:17 AM

Anonymous

August 28th, 2010
5:48 PM

eiregram from Nor Cal

August 30th, 2010
7:01 PM

Anonymous

October 12th, 2010
2:34 PM

Jenny B. fr SF, CA

October 27th, 2010
4:37 PM

Jill Goldack

December 19th, 2010
3:19 PM

Judy H

August 23rd, 2011
7:46 AM

thai recipes

September 29th, 2011
1:38 AM

Anonymous

October 30th, 2011
2:28 PM

Wok with Jon

November 29th, 2011
3:04 PM

Philip

January 17th, 2012
5:22 AM

Jim B. in Frontenac, Ks.

April 30th, 2012
2:53 PM

Bei

June 29th, 2012
1:09 AM

Tammy

February 6th, 2013
4:36 PM

Anonymous

March 24th, 2013
8:19 AM

Add a Comment

Related Recipes

Drunken Noodles and Chicken with Tofu, 'Gai Pad Kee Mao'

Dressed-up Son in Law Eggs, 'Khai Look Koei Song Krueng'

Thai Crispy Stir-Fried Noodle, 'Mee Krob'

Korat-Style Stir-Fried Noodles, 'Pad Korat'

Essential Thai Pantry

| | |
| --- | --- |
| | See the ingredients and cookware that every Thai kitchen should have. |

Find Another Thai Recipe

Search By: Name | IngredientsNeed more help? Check out our Thai Recipe Helper

Start typing the name of the recipe you are interested in.