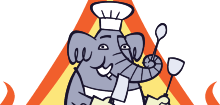 ImportFood.com

ImportFood.com
Ginger Chicken, 'Gai Pad Khing'

Buy ingredients for this recipe!

gai = chicken
pad = stir-fried
khing = ginger

Chicken fried in ginger is a favorite around the world, and we love this dish with mushrooms, and without fish sauce. In China, rice whiskey is often added during the stir-fry process--feel free to add a few tablespoons of Kentucky bourbon if you have some on hand. This is a simple, quick meal that can be made with pork or beef, or even shrimp. If you're avoiding meat, consider tofu marinated in a mixture of dark soy and fish sauce for flavor.

It is cooked in a hot wok - you'll notice from the video the dish is cooked on fairly high heat. If you do use a lower temperature, then the garlic should be sauteed in the oil before the chicken is added, to bring out the flavor. At high temperature this would result in burnt (and very unpalatable) garlic flakes in the food, so you add the garlic with the chicken, not before it.

We strongly recommend that you put the ingredients on plates ready to add them - you won't have time to measure ingredients once things start to move.

Ingredients

3 tablespoons of vegetable oil
2 tablespoons chopped garlic
1/2 cup chicken, cut into bite-sized pieces (more chicken if you prefer)
1/2 cup fresh mushroom, sliced
1/2 cup dried shiitake mushroom
3/4 cup baby ginger, strips
1-2 teaspoons dark soy sauce
2 tablespoons oyster sauce
1 tablespoon Golden Mountain sauce
1/2 cup chicken stock
a pinch of sugar
1/2 medium yellow onion, sliced
2-3 Thai chile peppers, sliced (optional: we prefer 1/4 cup jalapeno peppers)
1/4 cup green onion, cut into 1" pieces

Method

Soak the shiitake mushrooms in warm water for 20-30 minutes, covered. Remove from water, gently squeeze, and slice (see video below).

Heat the oil in a large pan or wok, and add the chicken, onion, mushrooms, and ginger. Stir-fry this for just a minute or two, then add garlic, chile, followed by seasoning sauces. Add soup stock and increase heat. Stir-fry until it's cooked. Taste and adjust flavors as you like, you may want more soup stock or dark soy. It cooks quite fast, be careful not to overcook. Add green onions, stir for just a few moments, remove from heat and serve over Thai jasmine rice, or in a serving bowl with other Thai dishes. Eat it steaming hot. Your entire home will have the wonderful aroma of ginger.

Thai Street Vendor Video

All of our videos can be found in our Thai Street Vendor Videos section.

Email This Recipe

Send this recipe to yourself or a friend.

Comments

ayesha

September 23rd, 2008
9:49 AM

Jack Steed

October 7th, 2008
2:17 PM

Anonymous

January 22nd, 2009
4:13 PM

Alan McCracken

December 1st, 2009
5:24 PM

HUSSAINA

December 1st, 2009
5:33 PM

Anonymous

December 4th, 2009
11:56 AM

Half Thai Ken

January 18th, 2010
7:18 PM

arlene rances

February 2nd, 2010
10:21 AM

Randy Hotz

February 7th, 2010
2:44 PM

Anonymous

February 20th, 2012
9:57 PM

Add a Comment

Related Recipes

Thai Cashew Chicken, 'Gai Pad Med Mamuang Himaphan'

Thai Fried Rice with Chicken

Thai Five-Spice Soup with Rice Chips, 'Kua Chap'

Thai Chicken with Hot-Sour-Salty-Sweet Sauce

Essential Thai Pantry

| | |
| --- | --- |
| | See the ingredients and cookware that every Thai kitchen should have. |

Find Another Thai Recipe

Search By: Name | IngredientsNeed more help? Check out our Thai Recipe Helper

Start typing the name of the recipe you are interested in.