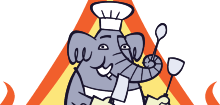 ImportFood.com

ImportFood.com
Thai Chicken Soup with Coconut Milk, 'Tom Kha Gai'

Buy ingredients for this recipe!

This is a mild but spicy chicken soup (it can also be made with shrimp, pork, beef or mushrooms), flavored with the unique flavor of galangal ("kha" in Thai) which creates a heavenly taste when combined with hot chile peppers, coconut milk, lime leaves and lemongrass.

The recipe below is a common, basic method using a prepackaged soup broth or bullion cube. To make things more tasty, try preparing your own broth from scratch. To make a simple broth for Tom Kha, put a carrot, half stalk celery, one medium chopped onion, perhaps a half cup of chopped daikon, and a few cloves of fresh garlic, into a pot of water. Simmer for an hour or so and you have a good broth, to be used in place of the 16 oz broth mentioned in recipe below. We also prefer increasing the amount of coconut milk to broth, to a 1:1 ratio.

You might also be interested in our excellent quality ready-made Tom Kha Soup in Pouches.

A nice variant to recipe below is our Tom Kha Salmon recipe made by the Prime Minister of Thailand.

Ingredients

16 fluid ounces soup broth (chicken stock)
4-5 kaffir lime leaves, shredded
4 or 5 2 inch pieces fresh lemongrass, bruised to release flavor
1 inch cube (or a bit more) galangal sliced thinly.
4 tablespoons fish sauce
2 tablespoons lime juice
4 oz chicken breast cut into smallish bite sized pieces
5 fluid ounces coconut milk
small red Thai chile peppers, slightly crushed (to taste)
coriander (cilantro) leaves to garnish.

Note the number of red peppers is a personal choice. It can be as few as half a chilli per diner, to as many as 8-10 per diner, but the dish should retain a balance of flavors and not be overwhelmend by the chili peppers. We suggest about 8-12 chili peppers for this recipe.

Method

Heat the stock, add the lime leaves, lemongrass, galangal, fish sauce, and lime juice. Stir thoroughly, bring to a boil, and add the chicken and coconut milk, then the chile peppers. Bring back to the boil, lower the heat to keep it simmering and cook for about 2 minutes (until the chicken is cooked through). Enjoy!

Not really intended to be eaten as a separate course, we like it served ladled over a bowl of steamed Thai jasmine rice. This quantity serves 4 with other food, but is probably only enough for two if eaten
separately.

If you would like to have a decent-tasting tom kha without spending the time to prepare above, we also suggest you try our convenient Tom Ka Paste (click to see description).

Variation

Here, in the photo to the right, we prepared the tom kha the same as in the above method, but without any soup stock. The liquid is only coconut milk, and a touch of water. We also added, after it was ladled into a small bowl, a half teaspoon of roasted chile in soybean oil (prik pao). This gave it nice color and flavor. Another option: try a touch of Thai chile oil on top instead of the prik pao.

Try our Tom Kha Kit. Extraordinary Value

Here we're offering everything you need to make several large servings of the best fresh home-made authentic Tom Kha. A thoughtful mix of fresh Thai herbs with all ingredients. Expedited to your door via 2 day shipping to ensure fresh delivery (upgraded at no charge). You'll also be able to make other Thai recipes. This is a great value and will have you cooking healthy Tom Kha soup right away. Checkout with regular shipping and we'll upgrade it to expedited 2 day at no extra charge.

| | |
| --- | --- |
| | Tom Kha Kit. $28.95 |
| | Tom Kha Kit with 5 lb Jasmine Rice. $34.95 |

NEW: Amazing Elephant Tom Kha Pouch.

NEW: Amazing Elephant brand "Tom Kha" Soup -- It's All In The Pouch. After years of development and investing in America, we are happy to introduce this ready-to-eat, premium quality, authentic and delicious Tom Kha soup made in small batches using the highest quality ingredients. Amazing Elephant brand puts everything in the pouch and cooks it to perfection.

To heat, simply put the pouch in boiling water for 3 minutes then open and serve alone or over rice. You can also microwave it for 90 seconds. It's all inside, so you don't need to add a thing.

This all-natural, gluten-free, preservative-free soup is precooked in a modern BPA-free pouch that's shelf stable for two years but tastes like it was just made fresh in a Thai grandmother's kitchen. Premium ingredients and sophisticated preparation ensure that this rivals anything a Thai restaurant serves.

More Info About Our Amazing Elephant Tom Kha

Thai Street Vendor Video

All of our videos can be found in our Thai Street Vendor Videos section.

Email This Recipe

Send this recipe to yourself or a friend.

Comments

Arjay

January 15th, 2009
12:03 AM

Shaun

January 22nd, 2009
4:08 PM

Lyn

April 17th, 2009
11:07 PM

A J Barkis

August 12th, 2009
4:01 PM

caron higham-wood

September 9th, 2009
3:08 PM

Hussaina

October 20th, 2009
6:57 PM

Anonymous

November 11th, 2009
7:37 PM

CHELY DAVILA

April 15th, 2010
6:35 PM

Joaephina S, villanueva

August 31st, 2010
10:57 AM

Sheila

October 10th, 2010
11:54 AM

amergirl

January 4th, 2011
10:36 AM

Rebecca

May 31st, 2011
12:53 PM

Yak Jai Dii

July 23rd, 2011
1:54 AM

Amina

August 11th, 2011
2:27 AM

Anonymous

April 7th, 2012
3:32 PM

Jane

January 23rd, 2013
10:41 PM

Anonymous

January 20th, 2016
11:57 PM

Add a Comment

Related Recipes

Green Curry with Fresh Chile, Chicken, Eggplant & Kaffir Lime

Thai Chicken with Hot-Sour-Salty-Sweet Sauce

Thai Ginger Chicken Soup, 'Tom Khing Gai'

Lemongrass Chicken, 'Gai Sai Takrai'

Essential Thai Pantry

| | |
| --- | --- |
| | See the ingredients and cookware that every Thai kitchen should have. |

Find Another Thai Recipe

Search By: Name | IngredientsNeed more help? Check out our Thai Recipe Helper

Start typing the name of the recipe you are interested in.