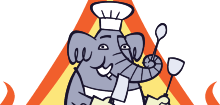 ImportFood.com

ImportFood.com
Thai Spicy Catfish, 'Pad Ped Pladuk'

Buy ingredients for this recipe!

Note the oil for cooking should be *HOT*. In view of this it is a good idea to cook this in a skillet with a lid.

Ingredients

1 lb catfish, cut into "steaks" about 1 inch thick
1/2 cup Thai eggplant, diced
6-10 cloves garlic, crushed, chopped or mashed
2 stalks lemongrass (about 2-3" long), bruised
1/4 cup grated fresh ginger
1/2 cup fresh Thai basil leaves, chopped
1/4 cup fish sauce
1 tablespoon palm sugar

You can if you wish add a few sliced Thai chile peppers.

Method

Combine the sauce ingredients.

In a wok get enough oil to shallow fry the fish smoking hot. Add the fish and stir until thoroughly coated with oil, then add the prepared sauce (carefull as it may splash). Stir fry for about 2-3 minutes, ensuring the fish doesn't stick to the pan and the pieces are all thoroughly sauced.

Remove to a serving dish and serve with steamed Thai jasmine rice and the usual Thai table condiments as wekk as Thai chili powder and sugar.

Final caution: this cooks quite quickly--don't over cook it or the fish will become hard. It is cooked when you can pry the flesh from the central bone stem of the steak using the tip of a table knife without undue effort.

Email This Recipe

Send this recipe to yourself or a friend.

Comments

Eric A.

September 29th, 2013
12:28 PM

Add a Comment

Related Recipes

Green Curry with Fresh Chile, Chicken, Eggplant & Kaffir Lime

Spicy Thai Chicken with Fresh Thai Basil, 'Gai Pad Grapao'

Assorted Thai Table Condiments

Panang Oak Gai

Essential Thai Pantry

| | |
| --- | --- |
| | See the ingredients and cookware that every Thai kitchen should have. |

Find Another Thai Recipe

Search By: Name | IngredientsNeed more help? Check out our Thai Recipe Helper

Start typing the name of the recipe you are interested in.