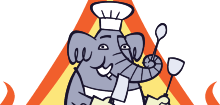 ImportFood.com

ImportFood.com
Tom Kha Salmon, Prepared by the Prime Minister of Thailand

Buy ingredients for this recipe!

When Thais elected a celebrity chef as Prime Minister in 2008, we knew that an occupation in politics wouldn't stop Samak's dedication to the cooking show Chimpai Bonpai ("Tasting, Complaining"). For anyone visiting Thailand, see this show every Saturday on Channel 5 at 4:30 PM.

Now ImportFood.com takes you behind the scenes to meet the world's first celebrity chef / prime minister! We recently joined Samak in Bangkok for the filming of his show, sat down for lunch together, talked about Thai food and shared one of his favorite soups--Tom Kha made with salmon. Here is the recipe for the soup, and we'll have more of Samak's recipes next month.

The secret to making a delicious Thai soup, according to Samak, is pounding together Thai pepper powder, corriander seed and fresh garlic in a mortar & pestle. This paste he calls "Thai MSG" and you can add it to any soup for good results. See below for the correct proportions.

You might also be interested in our excellent quality ready-made Tom Kha Soup in Pouches.

Ingredients

1 cube chicken buillion
1 lb salmon cut into bite-size chunks
1 teaspoon corriander seed
4 cloves garlic
1/2 teaspoon Thai pepper powder
1 cup sliced fresh galangal
1/4 cup sliced fresh lemongrass
1/4 cup kaffir lime leaves, sliced
1 cup fresh mushroom (more if desired)
2 13 oz cans coconut milk
7 tablespoons fish sauce

Method

Bring 6 cups water to a boil and add chicken buillion. In a mortar and pestle pound the corriander seed, garlic and Thai pepper powder into a paste. Add the paste to the boiling stock. Add salmon, galangal, lemongrass, kaffir lime leaves, and stir. Add mushrooms, followed by coconut milk. Season with fish sauce (more or less as you prefer). Bring to a boil, then remove from heat.

Ladle into a serving bowl and season with lime juice (quantity as you prefer), then sprinkle with mild fresh chiles such as jalapeno, red and yellow bell peppers, or any mild chile peppers in season.

Samak suggested that this be served with a special mix of steamed rice. Simply mix 80% uncooked jasmine rice with 20% uncooked sticky rice, rinse, and steam together in a rice cooker. We love this combination too! Ladle the soup over a bowl of the steamed rice, and enjoy this excellent Thai soup--from the Prime Minister to you.

NEW: Amazing Elephant Tom Kha Pouch.

NEW: Amazing Elephant brand "Tom Kha" Soup -- It's All In The Pouch. After years of development and investing in America, we are happy to introduce this ready-to-eat, premium quality, authentic and delicious Tom Kha soup made in small batches using the highest quality ingredients. Amazing Elephant brand puts everything in the pouch and cooks it to perfection.

To heat, simply put the pouch in boiling water for 3 minutes then open and serve alone or over rice. You can also microwave it for 90 seconds. It's all inside, so you don't need to add a thing.

This all-natural, gluten-free, preservative-free soup is precooked in a modern BPA-free pouch that's shelf stable for two years but tastes like it was just made fresh in a Thai grandmother's kitchen. Premium ingredients and sophisticated preparation ensure that this rivals anything a Thai restaurant serves.

More Info About Our Amazing Elephant Tom Kha

Thai Street Vendor Video

All of our videos can be found in our Thai Street Vendor Videos section.

Thai Street Vendor Photos

Email This Recipe

Send this recipe to yourself or a friend.

Comments

Shaun

September 6th, 2008
8:36 AM

Damisa

September 8th, 2009
12:04 AM

Anonymous

July 13th, 2011
5:09 PM

Anonymous

July 13th, 2011
7:10 PM

Susie Nielsen

July 13th, 2011
11:51 PM

JMack

March 14th, 2013
8:58 PM

Add a Comment

Related Recipes

Thai Ginger Chicken Soup, 'Tom Khing Gai'

Volcano Chicken, 'Gai Pu Khao'

Thai Pork Satay, 'Moo Satay'

Tom Yum Hot Dogs, Thai-American Style

Essential Thai Pantry

| | |
| --- | --- |
| | See the ingredients and cookware that every Thai kitchen should have. |

Find Another Thai Recipe

Search By: Name | IngredientsNeed more help? Check out our Thai Recipe Helper

Start typing the name of the recipe you are interested in.