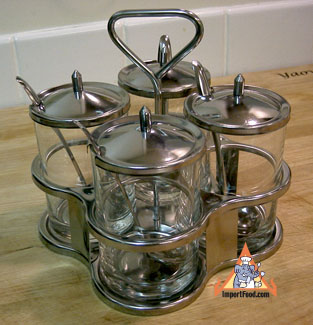 Thai Condiment Caddy
The condiment caddy is found in nearly every restaurant in Thailand, and here we have for a reasonable price the finest quality set we could find. Known in Thai as a "Puang Prik", the caddy itself is made of stainless steel. Also stainless steel are the long spoons, perfectly shaped for scooping, and the lids that cover the glasses.
You get four glasses, four lids, four spoons and the caddy itself. The capacity of each glass is 3/4 cup. The caddy is 6 inches tall, from base to the top of the handle (not too big, not too small).
Aside from being a true authentic Thai food required accessory, it might be a fun way to present non-Thai spices, jams, bacon bits, relish, onions, ice cream toppings, candy, or anything else you can think of
See below for more pictures and description.
| | | |
| --- | --- | --- |
| | | |
| | | $21.65 |