Thai Cheesecloth, 23" x 20"
Thai Cheesecloth, 23" x 20"
Add to cart
$7.95

This is our Thai cheesecloth that is a very high quality thread made just for kitchen use especially sticky rice.
After soaking your rice overnight, wrap in this cloth then set in our basket to steam (see below for instructions).
Many stores carry cheesecloth but it's expensive and the pieces are long strips only 5 inches high, which doesn't work very well for sticky rice.
Our nice large Thai cheesecloth is perfect for sticky rice prep, it's 23" x 20" and will last for years. Hint: after sticky rice is cooked remove from cheesecloth promptly.
The sticky rice pot and cheesecloth can also be used to make fresh handmade rice noodles.
Made in Thailand.
our complete thai sticky rice kit
---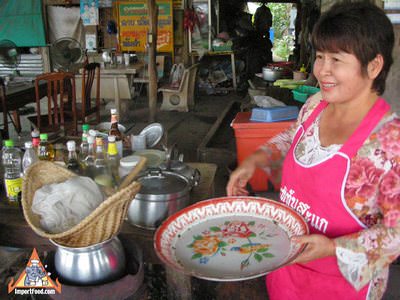 Thai Sticky Rice
Thai Sticky Rice (also known as "sweet rice" or "glutinous rice") is a tasty, sweet rice that does a great job of filling the stomach--but be careful not to eat too much... According to Thai tradition sticky rice can put you fast asleep if more than a couple handfuls are eaten. It is meant to be formed into small balls that you make with your fingers. Then dip it in spicy sauce and let it soak up like a sponge.
Sticky rice is enjoyed throughout Thailand and Laos, and is gaining popularity as more people come to know it's unique delicous taste.
---