Bangkok Vendor Offers Homemade Meatball Soup Noodles
Bangkok Vendor Offers Homemade Meatball Soup Noodles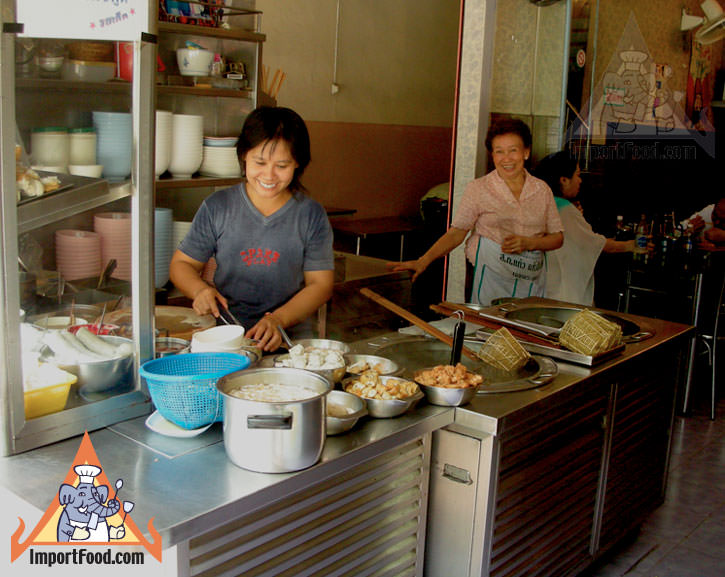 This vendor is part of our comprehensive report on the outstanding food finds in Bangkok's Saochingcha area.
Nothing brings to mind delicious food like a healthy, smiling grandma wearing an apron. This shop brings home-style Thai cooking the level you'd be unable to duplicate in your own kitchen or find in most restaurants regardless of price or location. Step inside and you know right away that you're in for a special treat.
This street-level shop on Dinsor Road is a local institution, as grandma (shown in the pictures with her granddaughter) has been making delicious meatball soup at the same location for 60 years. How many restaurants can say that? Experience shows--in the friendly greeting you get when walking in, and the organization and cleanliness of the food, and especially in the soup which is extremely rich.
As proudly displayed on the sign, this shop has the prestigious Shell Shuan Shim stamp of approval. Specialties here mostly revolve around the meatballs which are made on site by hand using the finest ingredients (unlike many shops who get their meatballs from large factories). Like many shops respectful of a popular Buddhist custom of avoiding beef, they do not offer beef meatballs, instead focusing on meatballs made of fish, and meatballs made of pork. We ordered Gao Lao En Moo (soup with many meatballs including pork tendon). Another popular dish here is Moo Toong Namdaeng (pork stew in red sauce).
Prices here are very affordable, $1 up to $2 for most entrees.
As you walk down the sidewalk of Dinsor Road, away from City Hall, look on the left side and this will be one of the first shops you see. They are open from 10:00 AM - 3:30 PM, then again 5:00 PM - 10:30 PM. They often have a special Duck Khao Tom in the evening. Phone number is 02-224-1137. Address is 188 Dinsor Rd, Saochingcha, Bangkok. If you keep walking the same direction (away from city hall), you'll see Tien Song Ped Yang on the same side of the street, just a few doors down. See our free map!