Kopiko Instant Coffee, Brown
Kopiko Instant Coffee, Brown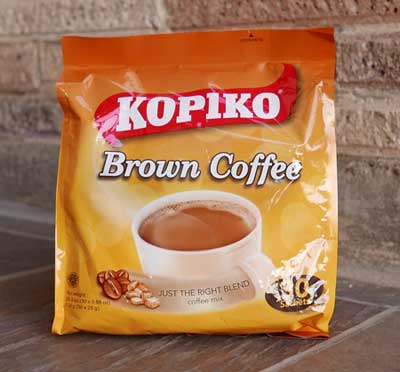 Add to cart
14.00

Brand new stock. Delicious instant coffee.
Kopiko is an Indonesian coffee company known for the highest quality coffee candy, and now we got a shipment of their new instant coffees.
The 'Brown' version has rich coffee flavor combined with a sweet caramel flavor with a hint of chocolate.
We also offer a more mainstream flavor Kopiko Premium 3-in-1 instant coffee.
This instant coffee is similar to INNA Thai instant coffee, but with a more bold, true coffee flavor.
30 packages at about $0.50 per package. This is a lot less expensive than corporate brands which are about $1 each. We get this directly from the importer, so you end up getting a great coffee at this price.
Made in Indonesia, where instant coffee is extremely popular. Add a packet to one cup of boiling hot water, stir and enjoy.
You get a generous 30 packets (25 gm per packet) in an attractive master bag. Great coffee flavor.
Ingredients: sugar, non-dairy creamer, sodium caseinate, dipotassium phosphate, emulsifier, stabilizer, instant coffee, malt extract, skim milk powder, cocoa powder, palm sugar, milk flavor, vanillin.
Product of Indonesia.