Fresh kaffir lime leaves, 1 lb pack - Wholesale Pricing
Fresh kaffir lime leaves, 1 lb pack - Wholesale Pricing
Add to cart
$75.00-16oz via Fedex Express

We've offered fresh kaffir lime leaves in small packs since 1999, and shipped to tens of thousands of homes & restaurants across America. We continue to sell more every year.
We regularly ship these leaves on a wholesale basis in one pound bags as shown, properly packed and delivered via 2 Day shipping. Available now.
What makes our fresh lime leaves so good starts in the field. The trees are all grown on the same small, sunny farm in the United States, with great irrigation and soil. The soil is fertilized (our leaves are not certified organic). The leaves are never sprayed.
Due to careful attention to detail, our leaves are consistently very clean, as shown here. Every harvest is inspected personally by a USDA officer under the Cooperative Asian Citrus Psyllid Project and issued a unique PPQ Certificate that indicates it meets all requirements.
Checkout with GROUND shipping then we upgrade to Fedex 2 Day at no extra charge.
We are now offering pounds of lime leaves for shipping
Order with confidence. It may take 7-10 days to ship in bulk depending on current schedule.
Feel free to order here and await your order, or call us at 888-618-8424 to discuss your requirements.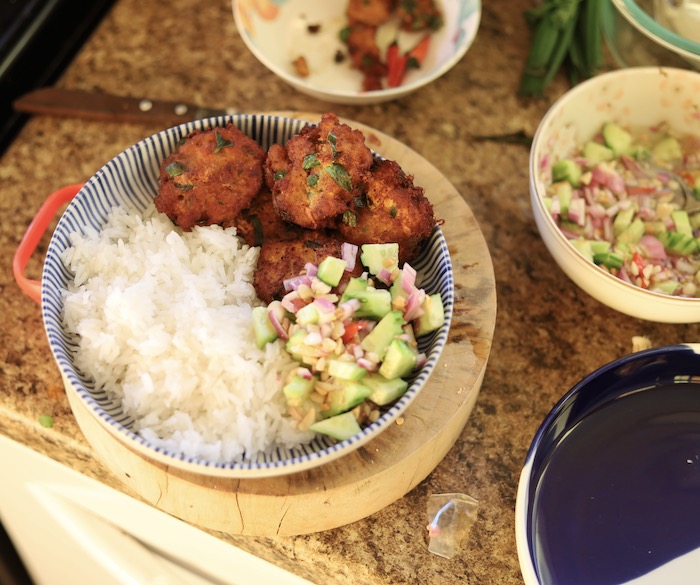 Spicy Thai Fish Cakes, 'Tod Man Pla'
Tod man pla is one of the most famous Thai dishes but seems to be rarely offered on the menus of Thai restaurants in the United States. We're happy to show you how to make it, step-by-step, with great results.
Here we just used cod pieces which can found at local supermarkets.

Also see our Thai Street Vendor video for detailed guidance.
---