Ginger, prepared in tube, 1.41 oz
Ginger, prepared in tube, 1.41 oz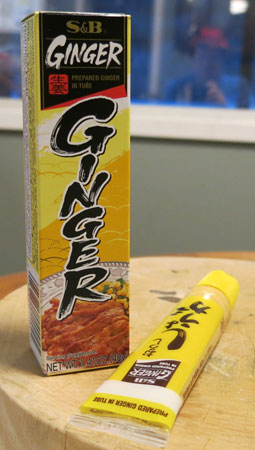 Add to cart
Temporarily Out of Stock

This is a high quality ginger imported from Japan, packed in a convenient squeeze tube with cap as shown.
Use in place of fresh ginger in equal amounts. Add to marinades, salad dressings, stir-fry dishes, curries, sauces or when a fresh ginger flavor is desired.
Keep refrigerated after opening.
Ingredients: ginger, cellulose, salt, vinegar, ethyl alcohol, aluminum potassium sulfate, xanthan gum, msg, lactic acid, ascorbic acid, artificial flavor, sodium metaphosphate, turmeric, disodium guanylate, disodium inosinate.
Product of Japan.