Katsuobushi, dried shaved bonito, .88 oz
Katsuobushi, dried shaved bonito, .88 oz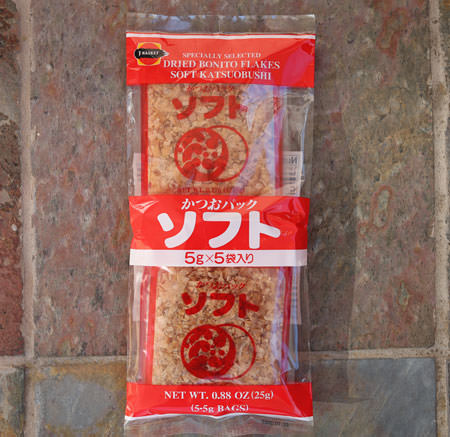 Add to cart
$5.89-.88oz

Katsuobushi is dried shaved bonito fish, and it's mainly used to make Dashi (dashi is a basic soup stock). A good dashi is the first secret to successful Japanese cooking.
Soup stock will always taste best if it's prepared from scratch with katsuobushi.

To make dashi stock simply put 4 cups water in a pan and heat on medium heat. Just before the water boils, add 1/2 cup katsuobushi flakes. When the water boils, stop the heat and strain the broth.
If you can find a piece of fresh konbu (Japanese seaweed) you can use that to make "konbu and katsuobushi" dashi. Put 4 cups water in a pan and soak one 6" piece of kombu (wipe dirt of konbu first but do not rinse it) for 1-2 hours. Heat the water on low heat and remove the kombu just before the water boils. Add katsuobushi and turn off the heat. Strain the broth to get dashi. This dashi is often used for clear soup. If you don't have konbu you can experiment with fueru wakame (dried seaweed) to enhance your dashi.

Leftover dashi stock may be stored in the fridge for 2-3 days or frozen.

Katsuobushi is also used on top of Japanese pancake, okonomiyaki, and cold tofu dish, hiyayakko.
Katsuobushi is also a gourmet cat treat, often sold in .25 oz packets. Most cats go crazy for it, and it's a low calorie, non-fat treat that doesn't ruin the cat's appetite. It can be used when training a cat via positive reinforcement methods.

We offer one value pack which is 5 individual bags, each 5.5 grams.
Ingredients: Dried bonito.
Product of Japan.