Vermont Curry Mix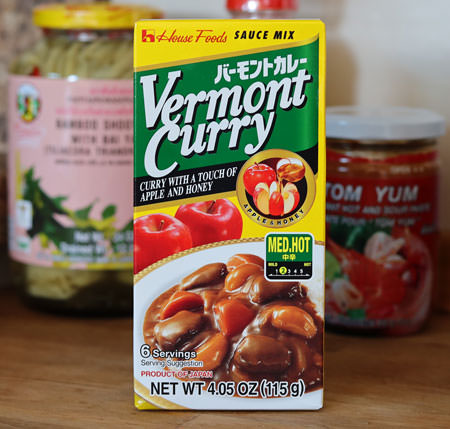 Add to cart
$6.39-4.05oz

Vermont curry is a remarkably delicious curry sauce mix that makes one of the most popular dishes in Japan--rich and delicious curry with a touch of apple and honey.
This is the smaller box, so you get one package only. Each package makes enough to feed 6 or more, and it comes in the form of cubes.
The process of making the curry is described below in text and pictures. This curry is mild, and it's a blend of Japanese/India, which also suits the American palate well. We are quite sure this will be enjoyed by the whole family.
Ingredients: palm oil, wheat flour, sugar, salt, cornstarch, curry powder (turmeric, coriander, cumin, fennel, spices), onion powde, tomato powder, autolyzed yeast extract, fruit paste (banana, sugar, honey, tomato), honey, skim milk, dry whole milk, cheese (chedder, gouda), peanut butter (peanut), soy sauce powder (soybeans, wheat, salt), chutney, cocoa, apple paste, garlic powder, red pepper, monosodium glutamate, disodium inosinate, sodium citrate, coloring (caramel, paprika), soy lecithin, monogrycerides, citric acid, natural and artificial flavor, spice extract (laurel).
Product of Japan.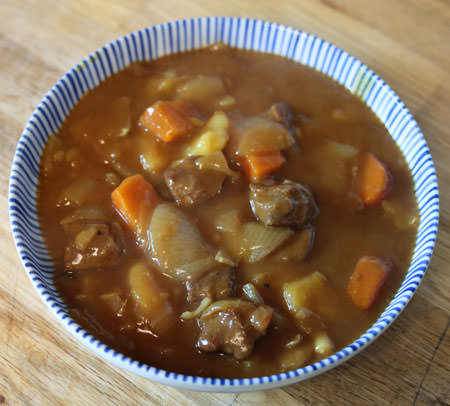 Japanese Style Curry Rice
This Japanese-Style Curry Rice recipe, made with our Vermont Curry Sauce Mix is great over steamed jasmine rice.
---