Solid Granite, Designer-Edition Square Mortar & Pestle
Solid Granite, Designer-Edition Square Mortar & Pestle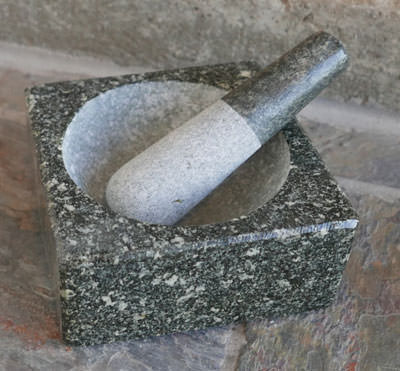 Add to cart
$39.95

The same super-dense, attractive solid dark granite machined to a precise 6" square block.
This is made of the same stone as our traditional granite mortar and pestle.
The mortar is 2.5" tall and has a 1.5 cup capacity, pestle is 6" long with a nice taper, and the top half of the pestle has a granite polish applied to it which gives the look of it having two colors.
Complements any countertop, with an elegant style. The bottom, sides and top are all perfectly smooth, and the inner bowl is machined smooth as glass.
The top rim, sides, and top half of the pestle have a sealer applied which is the same product put on granite counter tops to bring out their natural color. The interior bowl and the lower half of the pestle do not have the sealer, as these darken after several dozen uses due to oil in the food. In this way, over time the mortar and pestle take on uniform color.
It works great as a natural grinder for all kinds of herbs & spices, and it would be a very nice gift particularly for someone who has granite countertops. Based on looks alone it's a great value.
Made in Thailand.