Thai Market Scale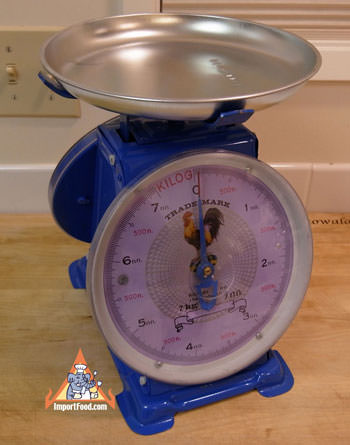 We are having a clearance sale this weekend only, half price. This beautiful scale is built with heavy-duty steel, made to last decades of constant use in a busy market. The scale has a slanted dual face (so the weight is shown on both sides) showing a beautiful Thai rooster. The top pan comes off, as shown, and it has a serial number hand stamped into it, matching the scale's serial number.
Market scales are serious business in Thailand, regulated to ensure confidence. Each scale comes with a certificate personally signed by an officer of the Thai government office of weights and measures. The scale is numbered in three different places, and a government seal is located in serveral places to prevent tampering. In the picture at left, you can see one of these seals below the number 6, in the picture below you can see one seal on each side of the paper certificate. Each scale also comes with a separate tool to fine-tune. Needless to say, this scale is incredibly accurate.
A nice conversation piece and useful tool for your kitchen, garage, or weekend market.
Base is 7" x 11". Height is 12".
This is the 7kg version.