Thai Street Vendor Cooler - 60 Liter - High Performance Table Top Design
Thai Street Vendor Cooler - 60 Liter - High Performance Table Top Design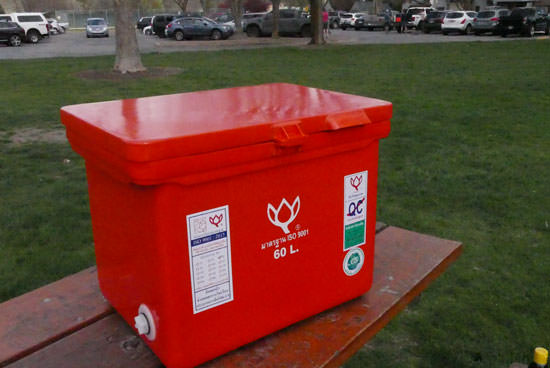 Add to cart
Out of Stock

These are extremely durable, solidly-built, commercial-grade coolers built for everyday constant use by Thai street vendors.
Unique table-top design. You've never seen or felt a cooler so well-built, and we are happy to share the story of these coolers with you.
First of all, the length of time this cooler keeps ice is unbelievable. Due to scorching hot climate in Thailand, the large number of street vendors demand coolers that keep ice as long as possible. Buying more ice is time-consuming and expensive.

Most of these flat-top coolers in Thailand are much larger, you can see the same style here in our video.
The cooler we offer kept ice for 3 days without any signs of it breaking down (100% non melt), then after 5 days about 70% of the ice remained. It's likely a 10 day cooler, but we didn't wait that long to tell you because it's an exciting product that just came in.
The cooler weighs a hefty 20 lbs. Heavy, environmentally-friendly plastic, quality checked at every stage. You can see in every aspect it's hand-finished. The strong hinges and handle are heat-molded onto the cooler by hand. There's a permanent, detailed, hand-written QC check sheet on every cooler. Under the cooler the hard plastic foundation strips are hand-applied, melted onto the shell (see photos).
We were contacted by an Alaskan fisherman by phone awhile back, he'd got his hands on a Thai street vendor cooler years ago and it held up to the most rugged use on his fishing vessel, and held ice longer than anything he'd ever seen. This is that cooler.
The capacity is 60 liters. We easily fit 60 cans of beer in it, with room to spare. The interior is straight up and down. The top is a thick, smooth table-top.
The comparable, high-end coolers in America with this capacity start at over $400 and don't have nearly the character or useful design. This is a great investment in a cooler that will give years of rugged use. We imported directy from manufacturer who gave us a good deal. There is no middle man, no marketing, etc. We are offering this to you at less than we would normally charge for something that costs so much to ship here.
It is a bit taller and more bulky than typical coolers for the American market. The sides have handles that add to the width.
Exterior 23.25" L x 16.25" W x 18.25" H
Interior 18.25" L x 13.75" W x 14.25" H
Made in Thailand.
Customer w/Cooler in Ohio
REVIEWS: We asked a few customers to comment on this cooler two weeks after delivery
"I could not be any happier with my new cooler! I just came back from a camping trip (with the cooler) and only bought ice once . It is definitely the most well made cooler that I have ever owned and I will be ordering another one today, if there are any left. Thank you for importing a great product!

Matthew, Harvey LA"
"I totally love the new Thai cooler! Actually, I have not had a chance to use it yet since we are just at the end of our big Spring pollen season here in Georgia and my husband and I still have to clean off (mop and wipe down everything) our screened-in porch from the thick, sticky yellow pollen before we can spend time out on the porch and actually enjoy and use the cooler. I love the orangy-red color and that it is so very well made and so very sturdy. I would rather write the review after I get a chance to actually use the cooler. I will print off your email and put it in my stack of correspondence and will make a note to review the cooler once we have used it. I am certain that it is going to be fabulous. Thai vendors definitely know what they are doing!

Wishing you and your family the very best - stay home, stay safe, and stay healthy!!!"

Susan, Atlanta GA"
"The cooler is great. I love the very simple design. From the rope to the table top. It's red and doesn't look like the other brand"

Robert, Austin TX"
"cooler arrived this morning, it is even better than expected! thanks!"

Tracy, Del Valle TX"
"I just wanted to send a note saying that I ordered one of your Thai Street Vendor Coolers several weeks ago and that I am extremely pleased with it. I wanted to get a good quality cooler for some time and I knew that the market was full of various brands of rugged, heavy-duty coolers in recent years. I accidentally came across your Thai cooler on your website while searching for something else, and immediately knew that I had to get it just to be "different"! I have not put it to the test yet, but overall I am extremely impressed with the build quality and overall durability. It really puts all the big name-brand (in the USA at least) ones to shame so far as I can tell. I am very much looking forward to getting years of use out of it. Thank you very much for your excellent products and continued excellent service! Thank you again and best regards"

Doug, Bellefonte, PA"
"We LOVE our new Thai coolers. They are truly superior temperature keepers. We keep them in our car for big supply trips to the city, and use one to keep frozen groceries and one for hot takeout. They keep food hot as well as cold!"

Valerie, Newhalem OR"