Mama brand, Bean Thread Clear Soup
Mama brand, Bean Thread Clear Soup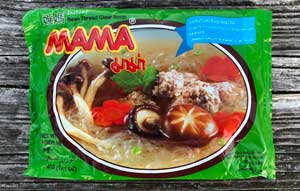 This is another new flavor from Mama, a mild soup using clear bean thread noodles (healthy, made from mung bean flour). We enjoyed making this with thinly sliced beef (see picture below), fresh cilantro and sliced oyster mushrooms then topped it with fresh sprouts.
Distinctive because it's made with bean thread noodles not the yellow wheat-based noodles typically found in Mama (for example pork).
Product of Thailand.
Please consider similar chan pho also.