Thai Kua Chap, Mama Brand
Thai Kua Chap, Mama Brand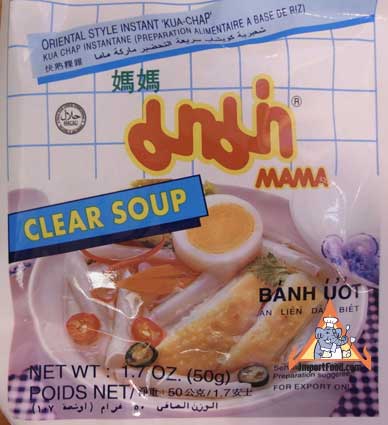 Add to cart
6 Packs $6.85

Kua chap is a unique instant soup, as the noodles are made of pure rice flour and cook into a circular shape (like macaroni) and the flavor is mild. Lovely aroma and a distinct elegant spice from white pepper.
A very soothing soup alone, and you can dress it up by adding hard-boiled egg, meat, vegetables, etc. Inside each package is kua chap noodles, and three packets as shown below.
See our recipe for kua chap made from scratch.
Ingredients: rice flour, salt, sugar, flavor enhancer (E621, E627, E631), pepper. Product of Thailand.
Please consider similar clear soup also.
See our Kua Chap recipe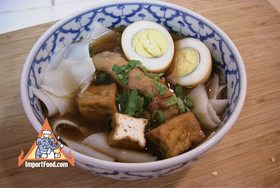 Thai Five-Spice Soup with Rice Chips, 'Kua Chap'
Kua chap is a rich, healthy soup loaded with flavor and nutrition. We often take it camping, and more than once people have come by to mention the wonderful aroma. We also offer an instant kua chap soup from Mama.
---