Star of anise powder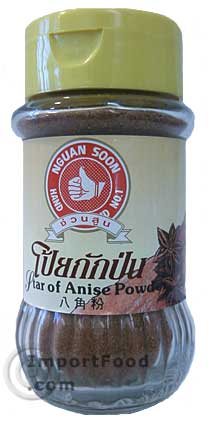 Add to cart
Temporarily Out of Stock

Excellent quality star of anise powder, grown in Thailand to the highest quality specification.
Star of anise is not usually used in Thai cooking, except as a part of Chinese Five Spice; however, it's used all over the world and sold for a fairly high price. At $3.79 you won't find a better deal for excellent fresh star of anise powder.
Packed in a beautiful glass jar, from Hand Brand, Thailand's best producer. Ingredients: star of anise. All natural, no preservatives. Product of Thailand. We also offer whole star anise.