Duck-Fried Rice with Tamarind Sauce

Duck-Fried Rice with Tamarind Sauce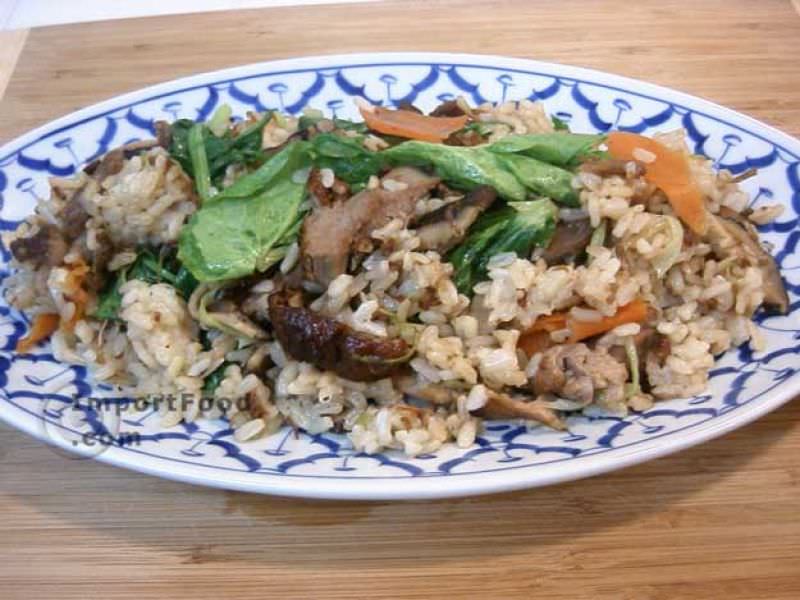 The tamarind sauce that's prepared as part of this recipe is delicious and can be used for all kinds of dishes, and you'll have plenty leftover to experiment with. Duck can be hard to find in certain areas, but some Chinese restaurants will make one for you, or any Asian barbeque should have them available. We purchased a whole duck for $12 near 6th and Jackson St in Seattle's Chinatown, and the shop's proprietor chopped it into pieces for us.
We recommend serving this with hoisin-marinaded pork chops.
Ingredients
For 4 Person(s)
Ingredients Tamarind Sauce
1

Cup

Sugar

1

Cup

Dry Red Wine

1

4-Ounce

Sugar-Coated hot tamarind candy

1/4

Onion, Thinly Sliced

2

Thin Slices Peeled Fresh ginger

2

Garlic cloves, peeled, smashed

1 1/2

Cups

Chicken Broth

1

Cup

Water
Ingredients Fried Rice
2

Tablespoons

Canola Oil

1

Cup

Shredded, Cooked Duck

1/2

Cup

Matchstick-Size Strips leek, white part only

1/2

Cup

Coarsely shredded peeled carrot

1/2

Cup

Stemmed shiitake mushrooms

3

Cups Cooked Brown Jasmine rice

1

Cup

Pea Vine (pea sprouts)
Buy ingredients for this Recipe
Method for Duck-Fried Rice with Tamarind Sauce
For tamarind sauce: place sugar, red wine, tamarind candy, onion, ginger, and garlic in heavy large saucepan. Bring to boil over medium-high heat, stirring until sugar dissolves and tamarind candy melts. Remove any tamarind seeds. Boil mixture until syrupy, stirring frequently, about 8 minutes. Add chicken broth and 1 cup water; simmer over medium-low heat until thick and syrupy and reduced to 1 1/2 cups, stirring often, about 1 hour. Strain. (can be made one week ahead, cover and refrigerate).
For fried rice: heat oil in heavy large skillet over high heat. Add duck and saute until beginning to brown, about 3 minutes. Add leek, carrot, and mushrooms. Stir 1 minute. Add brown rice and stir until heated through, about 3 minutes. Add 1/4 cup tamarind sauce, stir to combine. Season to taste with salt and pepper. Stir in pea sprouts and serve.
duck fried rice with tamarind sauce

Reviews