Five-Spice Chicken Wings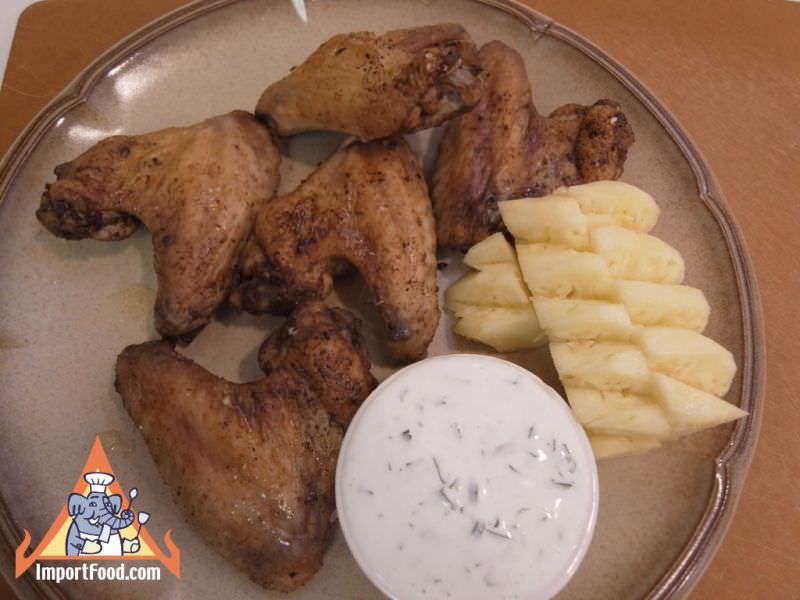 Five Spice powder is the lead flavor, and the recipe is very easy to prepare. We used local organic chicken, and really enjoyed the results. The recipe is credited to Food Network. It would not be considered a "Thai" recipe but, with a high quality Five Spice, these wings would please anyone who enjoys Thai food. For greater Thai authenticity, one might consider using Sweet Chile Sauce as a dip rather than the creamy sauce featured.
Ingredients
For 4 Person(s)
Ingredients Chicken
40

Chicken Wing Pieces, or 20 whole chicken wings

2

Tablespoons Five Spice powder

1

Tablespoon

Cayenne Pepper

Dash

Salt and Pepper
Ingredients for Creamy Cilantro Dipping Sauce
1/3

Cup

Chopped Fresh Cilantro Leaves

1/4

Cup

Light Sour Cream

1/4

Cup

Mayonnaise

1/4

Cup

Plain Yogurt

Juice of 1/2 lemon

Dash

Salt and Pepper
Buy ingredients for this Recipe
Method for Five-Spice Chicken Wings
Preheat oven to 500 F. If you have whole chicken wings, cut off wing tips and cut the wings in half at the joint. Discard wing tips or freeze to make stock. Place the wings in a large bowl. Sprinkle Five Spice powder and cayenne on the wings; add generous pinches of salt, and about 15 grinds of black pepper. Rub the mixture into all the wings until no more loose rub remains.
Line the wing pieces up on a baking sheet so the side of the wing that has the most skin is facing up. Roast until cooked through, browned, and crispy, about 25 minutes. Serve hot with Creamy Cilantro Dipping Sauce.
Creamy Cilantro Dipping Sauce: Combine all sauce ingredients through the lemon juice in a mixing bowl. Whisk to incorporate fully and season with salt & pepper to taste.
Chicken rubbed with spices
Roasted on a baking sheet

Reviews