Fresh Kaffir Limes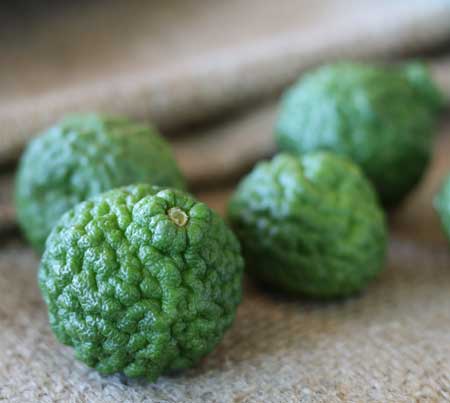 Add to cart
$20.95-10 Fresh Limes via Fedex Express

Thinly-sliced, these are an excellent substitute for the kaffir lime leaves. Kaffir lime peel is also indispensable when making your own Thai curry paste.
You get 10 fresh limes and we upgrade shipping of all orders to Express 2 Day.
See: Kaffir Lime in our recipe for Gaeng Tay Poe
See: Kaffir Lime in our recipe for Gaeng Tai Pla
Kaffir lime peel is loaded with a fragrant citrus oil, and the flavor of the fruit is overwhelming if eaten fresh. The kaffir lime tree is grown and harvested mainly for the leaves which are a staple in Thai cooking, but the tree doesn't produce many of these limes. As kaffir limes aren't eaten fresh, and there's limited use for them, our grower typically strips the trees of all fruit each year to promote growth of the leaves. This year however we kept fruit on a few trees and now it's been harvested. The fruit not only looks excellent but the culinary appeal is perfect: fragrant, strong citrus flavor. Put a slice of the bitter peel in your mouth and your lips get a tingling sensation of citrus unlike anything you've tasted.
Kaffir lime peel is used to make Thai curry paste, by pounding it together with other ingredients in a mortar and pestle. Notice from the pictures the nice thick, white fleshy peel. This is loaded with citrus flavor and aroma. A classic Thai dish that uses kaffir limes, whole, in soup is Khanom Jin. It's also used to make candy.
Kaffir limes are used extensively in aromatherapy. Some massage oils, natural shampoos, and various herbal products call for kaffir limes but the scarcity of this fruit makes it difficult to prepare authentic versions.
Thinly-sliced, these are an excellent substitute for the kaffir lime leaves.
Grown in USA.
Saveur Magazine recommends our kaffir Limes in the October 2013 issue
---
Occasional delays due to Mother Nature & harvest conditions. Any questions about shipping, if you need a definite delivery date, delivery times, or anything else please feel free to call toll free 888-618-THAI.
---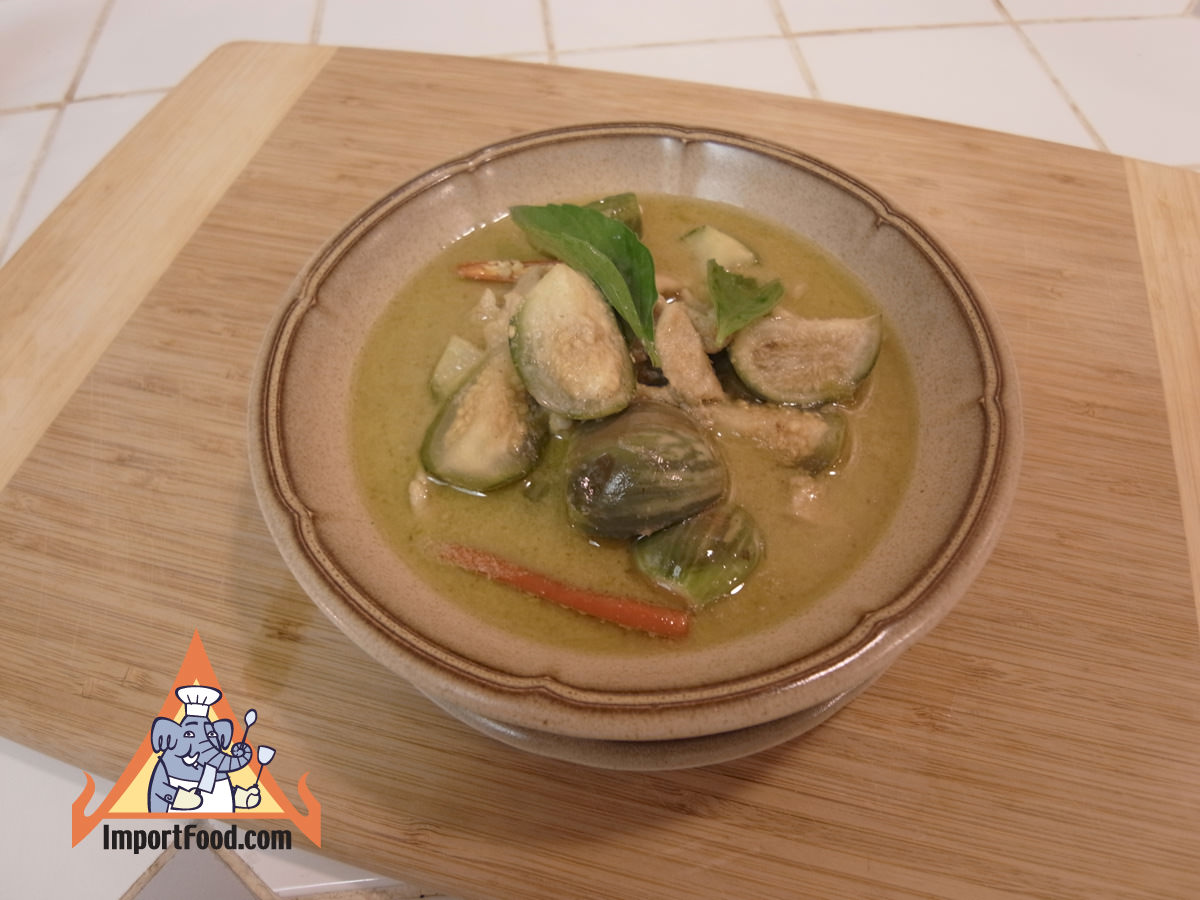 Green Curry with Fresh Chile, Chicken, Eggplant & Kaffir Lime, 'Gaeng Khiao Wan Gai'
This recipe highlights the delicious Thai mini eggplant and it's a common recipe throughout all provinces of Thailand. The advantage of this recipe is that you pound fresh chiles into a high quality green curry paste, resulting in a more bold, fragrant and spicy final result. We also have another recipe for gaeng khiao wan gai.
---
---