Thai Sea Salt
Add to cart
Temporarily Out of Stock

Some visitors to Thailand might recall seeing the salt farms located near the seaside, with the small piles of white salt visible from the highway to the seaside resort of Hua Hin.

This is pure sea salt which is processed in the most hygenic conditions to produce a very high quality product. Salt crystals are similar to table salt you find in USA, not large crystals like you find in sea salt from some other countries.

It's packed in an attractive, generously-sized bottle which is about 7 inches tall and a lid which opens on two sides (see picture below). Hand Brand. Product of Thailand.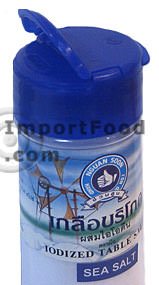 ---
We offer the following premium quality Hand Brand spices from Thailand