Bangkok Sidewalk Vendor Radna Yod Pak Offers Noodles in Gravy
Bangkok Sidewalk Vendor Radna Yod Pak Offers Noodles in Gravy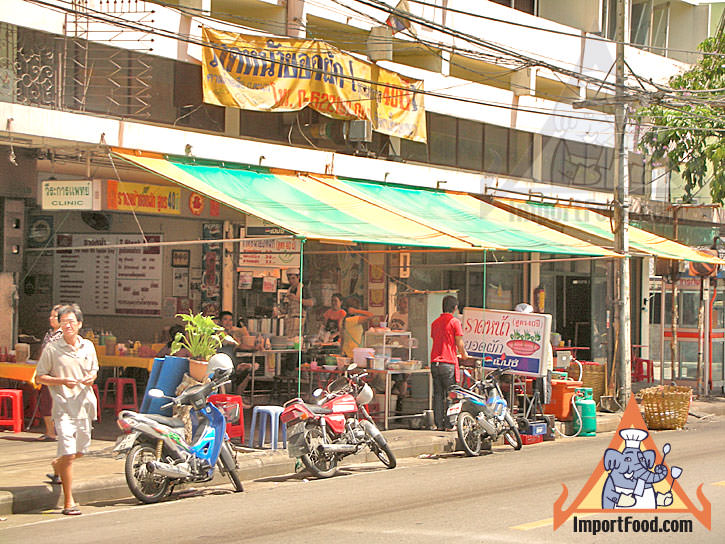 This vendor is part of our comprehensive report on the outstanding food finds in Bangkok's Saochingcha area.
Like many of the famous food shops in the surrounding area, this small shop has been in business for over 60 years. 20 years ago they started calling their recipe for Radna a "Forty Year Old Recipe".
This shop serves a variety of noodles, not only Radna but also duck noodles, pork satay, and the menu on the wall proudly displays that they serve a special T-bone steak which rivals any 5 Star restaurant. You can also order a nice range of fresh fruit smoothies. As the chef here has been born and raised right here cooking, anything you'd like to order is made using excellent ingredients and tastes great.
One of the notices on the wall here states that the restaurant uses certified organic vermicelli noodles.
We ordered crispy egg noodles with seafood gravy, one of the more famous dishes served here. The translation of radna in English is "Pour on the Face". Here you get to do the pouring yourself. A bowl of crispy noodles is brought to your table with a separate pan full of gravy and seafood. Pour the gravy on top of the noodles yourself to keep the noodles crispy until the moment you start eating. This is an unusual way of serving radna which you, and a signature of Radna Yod Pak.
We also ordered pork satay and a few fruit smoothies.
They are open every day from 9:00 AM - 9:30 PM. Phone number is 02-622-1910, they advertise delivery service in the local area if you order 10 dishes or more. The owner, shown below with wife and daughter, is always there. His name is Mr Somboon, nickname Hia Tee, and he said if anyone in America wants help finding a good Thai chef to work in USA, let him know because he knows a lot of people through his circle of friends who would love the opportunity. See our free map!