Thai Chicken and Ginger Soup, 'Gai Joo Khing'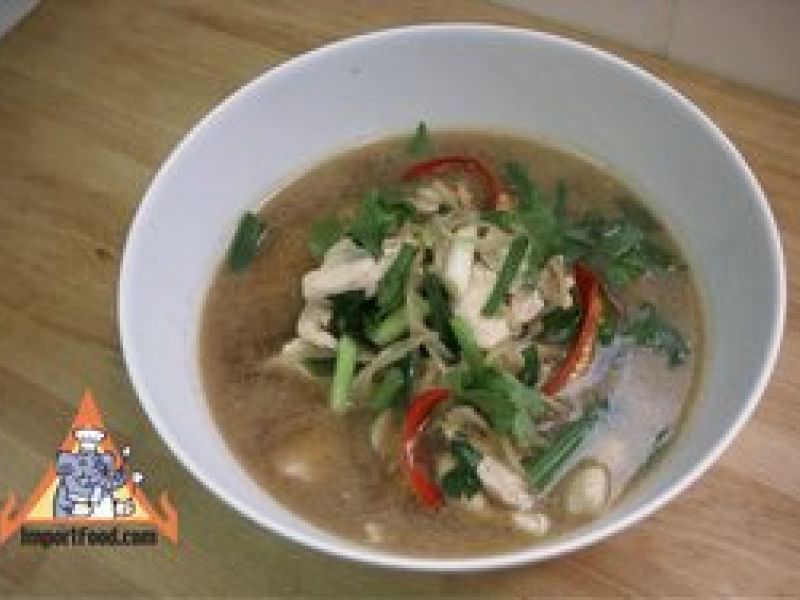 Joo means stir fry in the ancient Chinese language. Gai = chicken, Khing = ginger.
This is a regional recipe from Kanchanaburi province in Thailand. Similar to normal ginger chicken soup, this style is a bit sweet and salty as a result of the yellow bean sauce. It also has a mild heat from ginger and Thai pepper powder, which helps release gas from the stomach.
In the past and also nowadays, Gai Joo Khing is the best dish to help a woman recover from giving birth and brings a lot of breast milk for the baby.
Not only can you use chicken for this tasty dish, but fried fish can be used also. To make good Gai Joo Khing, you must fry the chicken with garlic and ginger until the aroma and flavor of ginger is prominent in the chicken before you add water.
Method for Thai Chicken and Ginger Soup, 'Gai Joo Khing'
Heat oil in a wok on medium heat until hot. Add chicken stir fry until start to cook, add garlic and ginger cook until aromatic. Stir in yellow bean sauce and water, bring to a boil for about 5 minutes. Season with thin soy sauce and white pepper powder. Add spring onion and cilantro remove from heat.
Transfer to serving bowl top with red chili pepper. Serve with steamed jasmine rice. Enjoy!

Reviews