Thai-Style Pot Roast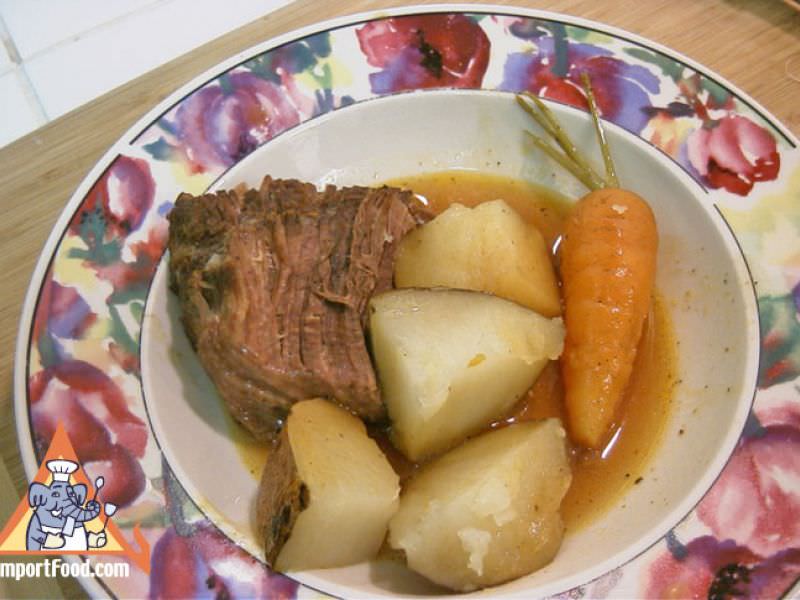 Here we've created a delicious pot roast with subtle Thai flavors, and it really works well--the key is the Tom Yum Powder which is an excellent rub. We used local grass-fed rump roast, which was lean and cooked best at low temperature for several hours. If you buy beef from a local supermarket, ask them which cut they recommend for pot roast, and go with that. You will really enjoy it. We probably should have added more water at the start in order to get more sauce at the end. Just follow the instructions here and you'll get a fragrant, delicious pot roast with gentle hints of chile and citrus.
Method for Thai-Style Pot Roast
Rinse the beef with water and pat dry. Rub the beef with half of the tom yum powder, covering it well. Put the rest of the tom yum powder in a dish and mix it with the flour.
Place enough vegetable oil in the bottom of a 6 quart dutch oven so it will give your beef a good fry, at least a few tablespoons, add the roasted chile in oil, and turn it on medium/high. Get it hot. In the meantime, roll your meat around in the flour mixture to get it nicely coated, but you don't want too much of this flour mixture on your beef so be careful not to overdo it.
Carefully place your beef in the hot oil and brown it on all sides. This takes a few minutes or more. Slice the fresh galangal and lemongrass into smaller pieces.
Remove your beef from heat and add the onions, galangal, and lemongrass. Then add enough water so it almost covers the beef. Place it back on the burner and get it to a simmer then place lid on it and cook in the oven at 275-300 degrees (F) for several hours.
After about 2.5 hours add the potatoes and carrots. Check the beef after another hour to see if the meat pulls away nicely with a fork, it's done at that point. As you serve, discard the lemongrass and galangal.
The roast is just delicious and you'll reall love the fragrance throughout your home.

Reviews