Thai Turmeric Powder, 1.76 oz jar
Thai Turmeric Powder, 1.76 oz jar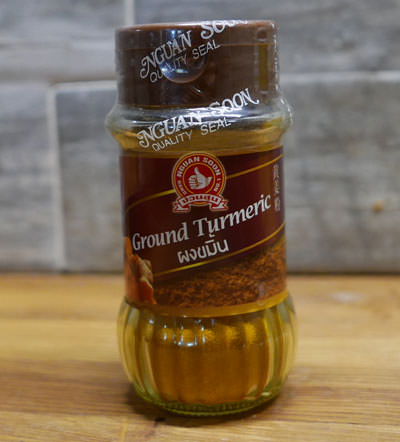 Add to cart
1.76 oz - $2.85

Turmeric is a member of the ginger family, and is a wonderful natural yellow food coloring for not just Thai food--it's widely used around the world.
We love ground turmeric in Thai pork satay.
The spice contains unique aromatic characteristics also, and. Turmeric has therapeutic properties notably in ayurveda medicine. Used in soaps, massage oils, and several other non-food products.
We offer fresh turmeric on a seasonal basis, and fresh turmeric is highlighted in our Southern-Thai yellow curry soup.
We are pleased to offer the most premium quality ground turmeric (turmeric powder), from the finest spice manufacturer in Thailand -- Hand Brand. Offered at an excellent price.
Packed in a glass jar. Product of Thailand.
---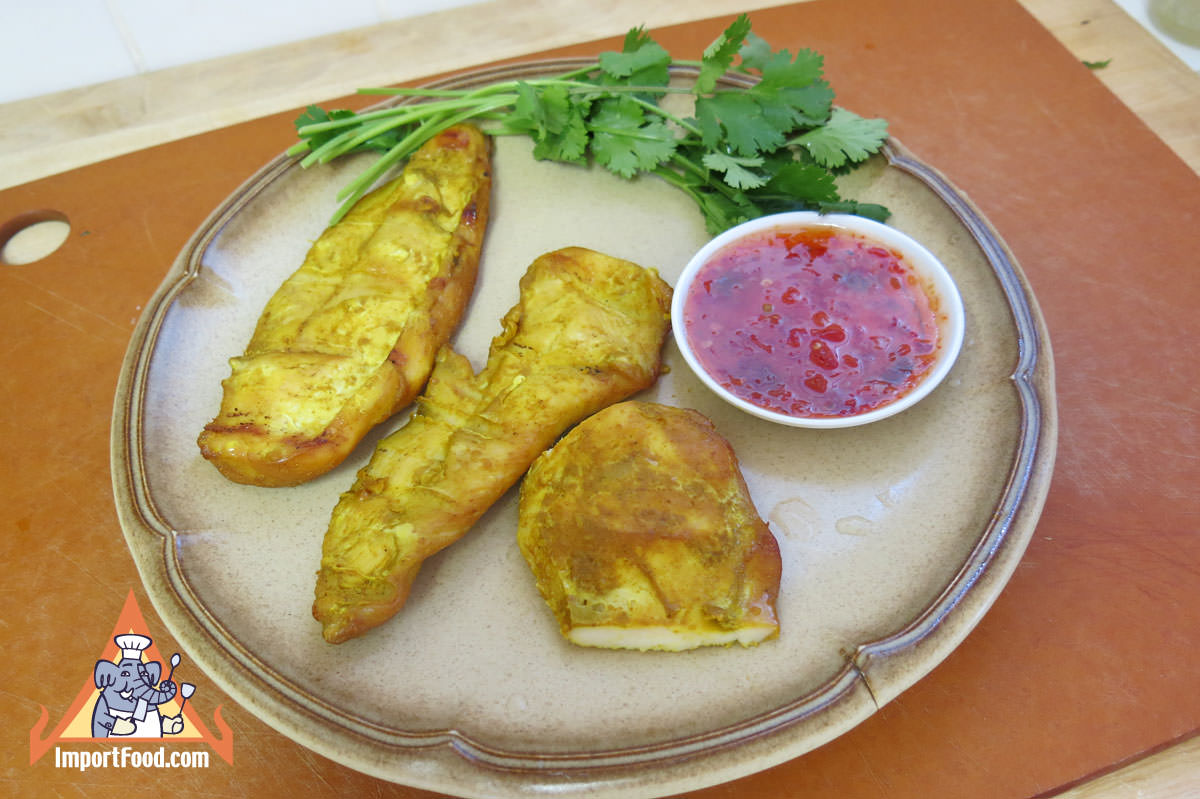 Thai Barbecue Chicken, 'Gai Yang'
Gai yang translates to "barbecued (or grilled) chicken", and can be prepared in many different ways, we demonstrate here three unique versions.
There are pictures below shared by visitors to this website, links to street vendor videos, and detailed instructions on how to prepare three of our own versions. Perhaps the most famous gai yang is sold by vendors in the seaside community of Bang Saen, where the bird is cut open along the belly, flattened with a few blows from the back of a cleaver, and pegged with a stick to hold it, then marinaded and grilled over charcoal.
---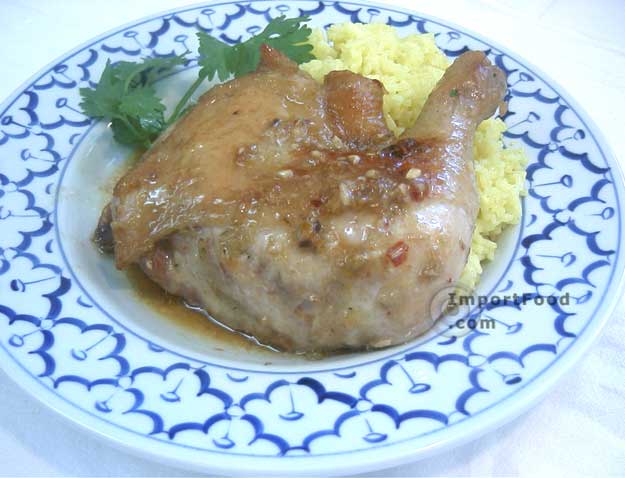 Lemongrass Chicken with Turmeric Rice
This recipe is more of a Vietnamese dish than Thai, but the yellow rice is becoming more popular in Thailand and we really like the overall flavor. Turmeric makes the jasmine rice take on a beautiful yellow color, and the flavors go well together.
---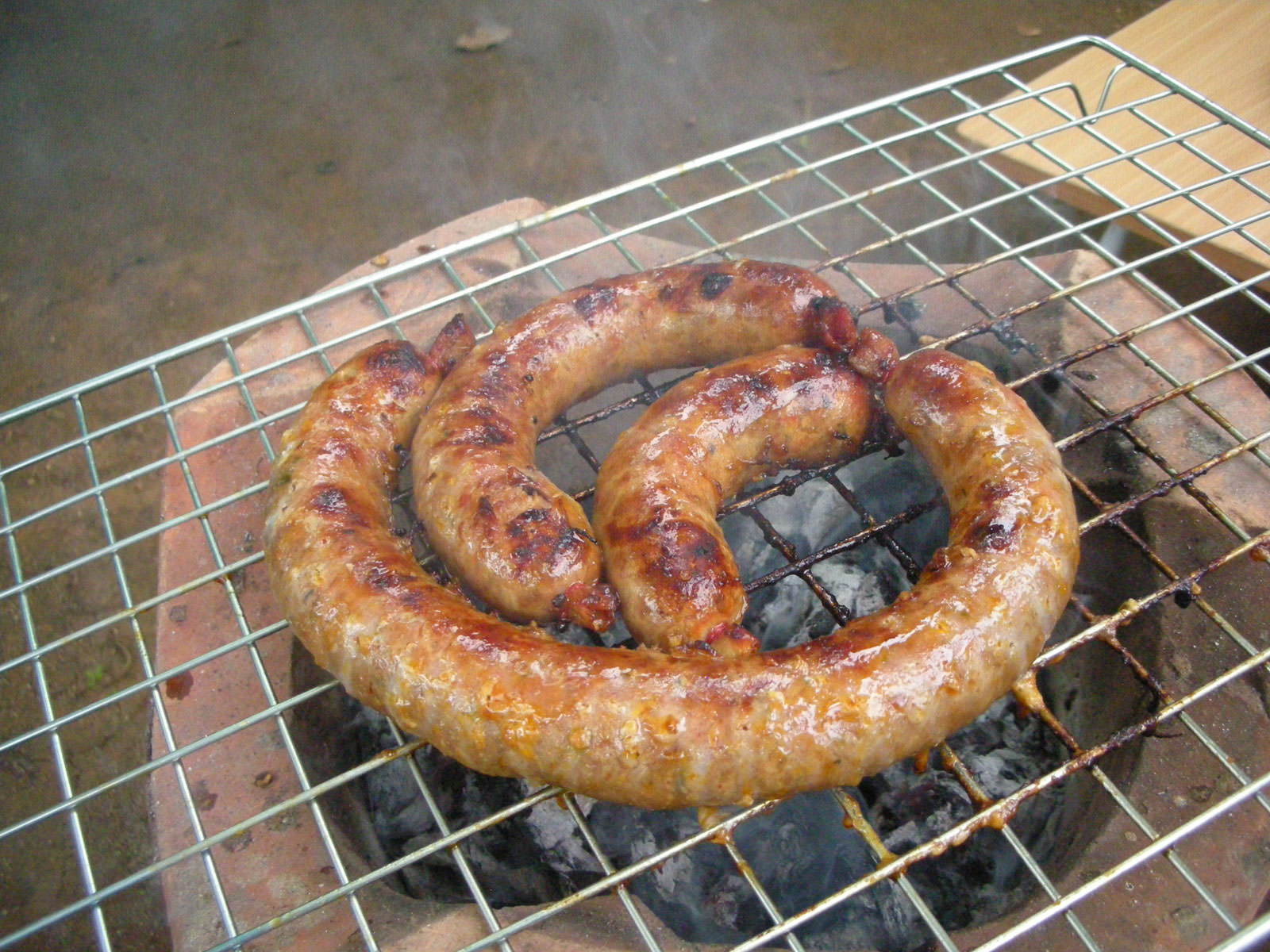 Northern Thai Sausage, 'Sai Oua'
Northern Thai sausage is easy to make, and the mix of ingredients leads to a spectacular result. We would encourage you to make this with ground pork or, for any hunters reading, try this with local elk, deer, wild boar, or other natural meat that you might have. Also watch our video (below left) showing how it's made.
You can't go wrong with this sausage. Please be sure to leave us a comment using the form below if you make it, and share how it turned out.
We also have a recipe for Esan-style Thai sausage, sai grok.
---
Chiang Mai Curry Noodles, 'Khao Soi'
This is a noodle dish, prepared in a rich creamy curry sauce, that is traditional in Northern Thailand. A popular lunchtime meal in northern Thailand. The flavor is not only distinctly "Thai" but it also goes very well with the American palate. We also offer a ready-made Kao Soi paste for quick preparation.
Try to use fresh egg noodles. We found flat, fresh egg noodles at our local Safeway supermarket in the refrigerated section. Khao Soi is typically a rich gravy poured over soft noodles, then topped with the same noodles but crispy.
---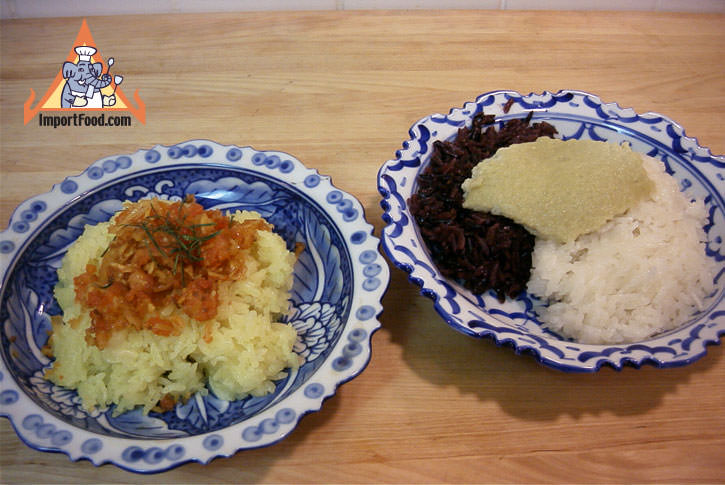 Thai Sticky Rice Steeped in Coconut Milk, 'Khao Neeo Moon'
Khao neeo moon is a truly authentic Thai recipe. Mixing sweet dessert rice with a sugary seafood topping might seem like a bizarre combination that Food Network might sensationalize on one of their celebrity shows. Yet this is a favorite of Thailand found throughout the country, made interesting by a variety of toppings. Here we demonstrate how to make the rice, and two of the more common toppings.
We prepared the rice in three colors. White, black (using black rice), and yellow (white rice colored with turmeric). In Thai tradition, the shrimp topping should go on the yellow rice.
---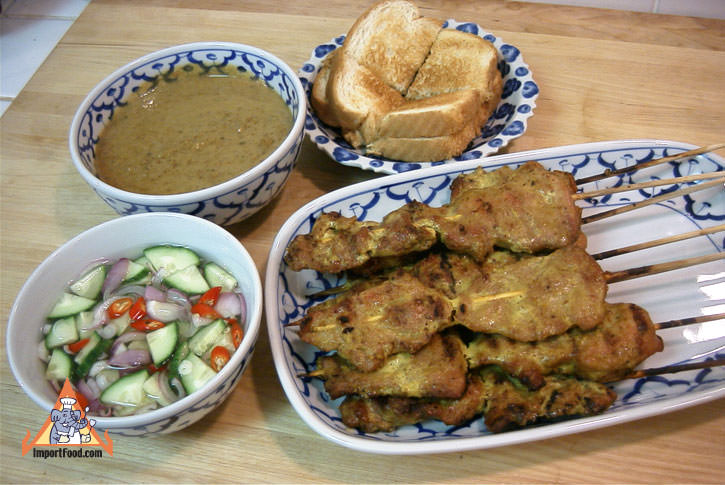 Thai Pork Satay, 'Moo Satay'
Pork satay consists of strips of marinated pork on bamboo skewers, charcoal barbequed then served with a tasty peanut sauce and a white vinegar cucumber sauce. It's often served in Thailand with squares of toast, as shown in our recipe here. We made pork satay in the true authentic Thai style, which is time-consuming. Be sure to baste your satay as it's on the barbeque, note from our street vendor video (below left) he is constantly basting. It seems that most of the time, this style of satay is made with pork, but you can also find chicken satay and prawn satay. We offer a ready-made satay mix that's quite good for both chicken and pork.
Recently we had a fantastic meal using this recipe, prepared with our high-fat Chaokoh coconut cream rather than coconut milk, and we omitted the peanuts altogether which led to a very rich, slightly spicy satay full of true Thai flavors (see pictures below right).
There are four different things you need to make: marinade, basting sauce, satay sauce, and ajad.
---
---
We offer the following premium quality Hand Brand spices from Thailand