Mama, Namtok Instant Noodles
Mama, Namtok Instant Noodles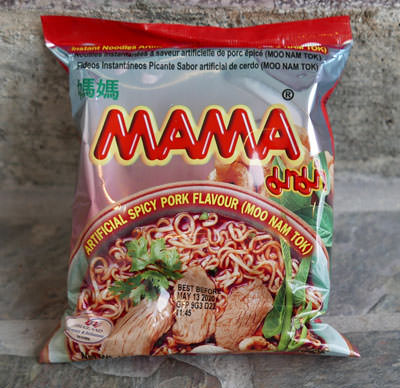 Add to cart
6 Packs $6.85

Mama makes a wide variety of popular instant noodles such as kee mao and classic tom yum shrimp.
The instant noodles have a dark rich smoky broth, and it's not extremely spicy like other Mama noodles. This is namtok flavor (see our recipe for namtok). Add thinly sliced pork or beef, along with fresh cilantro, to make a more substantial meal.
Every package comes with three different spice packets. Just add boiling hot water to the noodles and spices, cover and set for a few minutes.
Ingredents: wheat flour, palm oil, salt, sugar, corn flour, soy sauce powder, chile powder, msg, cilantro, caramel color, artificial pork flavor, dried leek, spices, sodium bicarbonate, garlic powder, galangal powder, citric acid, silicon dioxide.
Product of Thailand.
We also offer instant namtok mix.


Mama Namtok Instant Noodles
---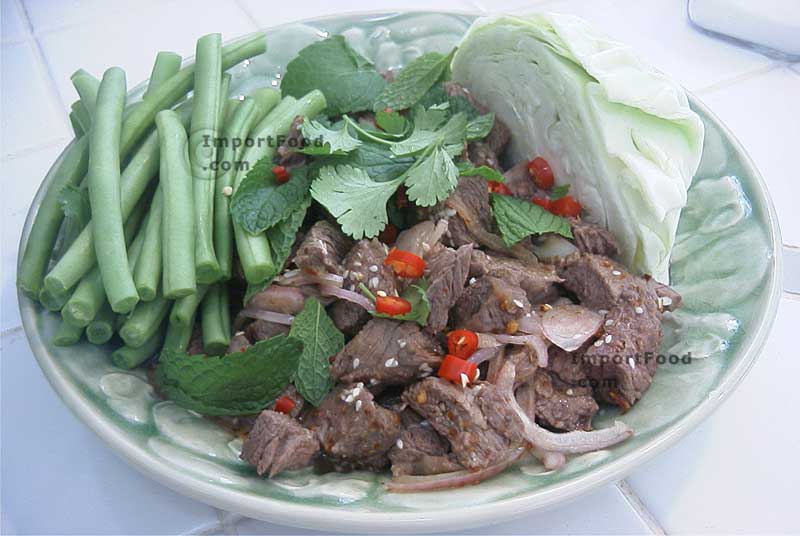 Waterfall Beef, 'Neua Yang Nam Tok'
In Thai language, nam tok is a waterfall. This dish is usually cooked using a barbeque (the juices drip onto charcoal hence the name waterfall) but you can fry or broil the beef just as well. It should be cooked rare to start with. See our street vendor video lower left, a sidewalk chef prepares it.
We also offer: instant nam tok mix and Mama instant namtok noodles.
A great dipping sauce to serve with this beef is made with our Namprik Thai Tae.
---