Thai rice, red cargo, 5 lb
Thai rice, red cargo, 5 lb
Add to cart
$16.50 5lb bag

Red Cargo rice is often mixed with white jasmine rice to create a rustic mix as shown below. You can cook red cargo all by itself, or some mixture such as about 20% red cargo 80% white jasmine as we prefer.
The main difference between red and white rice is the milling. Milling removes both the husk and the bran layer of the kernel. Through the milling process, rice becomes white.
Our red cargo rice from Ko-Ko is milled only to remove the outer husk, but the red bran layer remains. Because of the existence of this bran layer, cargo rice contains more nutrients than white rice. In particular, cargo rice is high in fiber and vitamin B.
Red cargo can be prepared in a pan or in an electric rice cooker, using about 2.5 cups water to every cup of rice.
Red cargo rice is commonly served in both Thai and Vietnamese meals. Lately in Thailand, more elderly people are eating red rice in order to capture the added nutrition. Also, along with the recent explosion of Thai restaurants around the world focusing on Street Vendor style food, restaurants often serve steamed rice that has 10-20% red cargo mixed in, to give it a rustic "wild rice" appearance.
We enjoy red cargo cooked together with white jasmine to create a lovely color and earthy aroma.
Ingredients: 100% Red Cargo Rice.
Product of Thailand.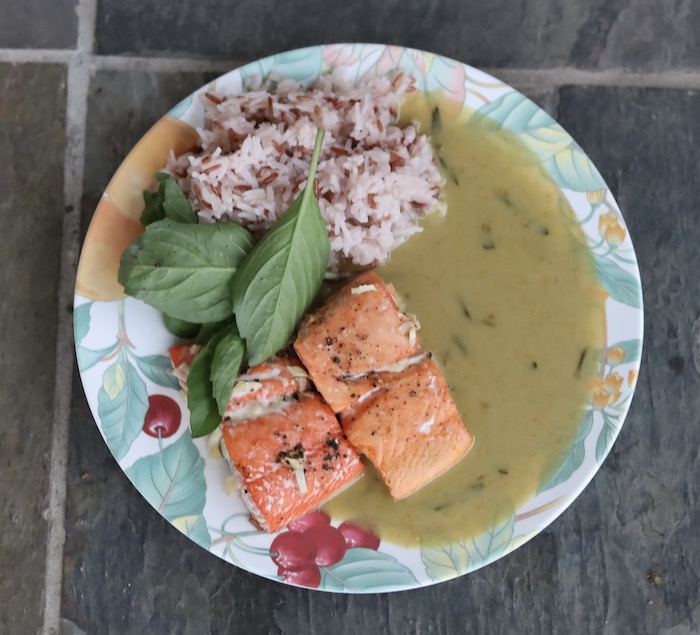 Thai Green Curry Salmon and Wild Rice
For years we've sold Thai green curry paste made of natural spices. Here we've created a very basic Thai green curry, true to authentic flavor but also lacking fiery chile heat because sliced chiles are not added. We ladled the curry over a nice blend of rice and honey-drizzled salmon. We used wild king and sockeye salmon, as shown. You can use any seafood. Salmon is a great choice because honey-flavored salmon tastes so good with the green curry.
We like serving this with a combination of red and jasmine rice, as the wild rice character goes well with seafood.
---