Hale's Blue Boy, Cream Soda Flavor Sweet Drink Mix
Hale's Blue Boy, Cream Soda Flavor Sweet Drink Mix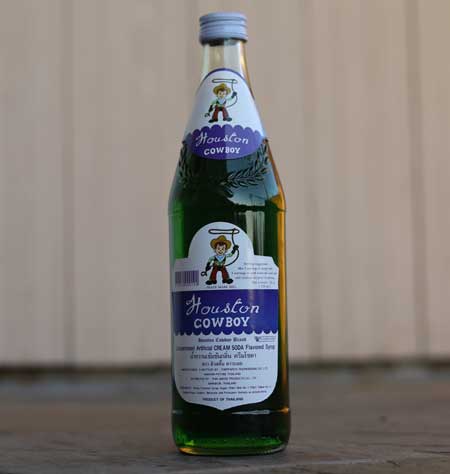 Add to cart
23oz - $9.89

Houston Cowboy brand has been offering aromatic, very sweet drinks in Thailand for many years. This is a sweet syrup that can be used on snocones, or more commonly mixed (1 part syrup with 4 parts water).
Our customer sent this message about Cream Soda flavor:
'The cream soda syrup is a tasty flavor. It can be used on shaved ice, to make popsicles (add a little cream/milk for a creamy popsicle), or mix the syrup with a lemon/lime soda like 7up or Sprite to mimic the classic Thai Fanta cream soda flavor but a little stronger. (My mother tells me she likes to mix it with 7up or Sprite because it reminds her of how Thai Fanta cream soda used to be like when she was younger.)
I like mixing the syrup with water and serve it over ice with boba (bonus points if the cooked boba has been soaking in the cream soda syrup) and a splash of milk. It's sweet, milky, and refreshing.'
See our feature story: Thai Street Vendor Refreshing Shaved Ice Treats
Serve over ice (1 part syrup to 4 parts water, over ice) for a very sweet drink that complements Thai food.
Notice the unique fragrant aroma also.
The glass bottle is very thick and "old school", with a beautiful embossed label as part of the bottle. You may want to keep the gorgeous bottle as a keepsake.
The large bottle is a generous 23 oz so this goes a long way.
Ingredients: water, fructose syrup, sugar, FD&C Blue No 1, FD&C Yellow No 5, Artificial Flavor, Sodium Benzoate and Potassium Sorbate as preservatives.
Product of Thailand.