Pickled Ground Red Chili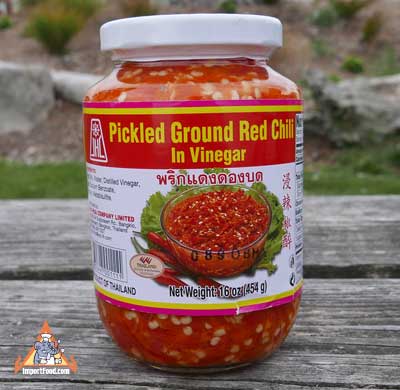 Add to cart
16oz - $7.89

These ground red Thai chili peppers are strong but not overpowering, a very nice medium heat pickled pepper.
We enjoyed serving this along with barbecue steak. We also put it in a small bowl and added some fish sauce -- a very tasty dipping sauce.
You can also combine it with a tablespoon of black rice vinegar. This is an excellent dip for Gyoza, pot stickers, or other dumplings. It blends well with the smoky flavor of black rice vinegar.
Pickled ground chile with garlic has Thai-Chinese roots, and you can find it commonly served as a condiment for soups (especially noodle soup). Keep some on hand when making tom yum or stir-fried seafood--this is what our street vendors are dropping into the wok in these videos:
Basil Chicken
Tom Yum
Seafood Basil Stir-Fry
Ingredients: red chili pepper, vinegar, salt, sodium benzoate as preservative.
16 oz glass jar.
Product of Thailand.