Sina Ginger Candy, All Natural, Package 24 pieces
Sina Ginger Candy, All Natural, Package 24 pieces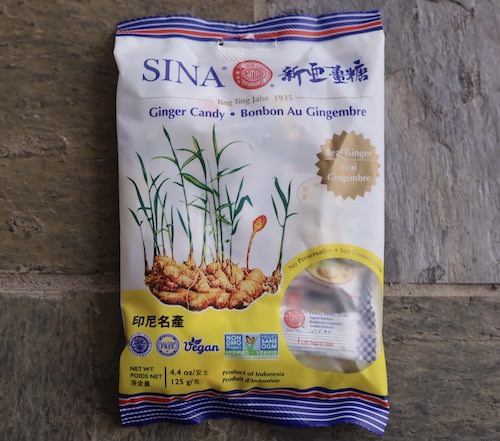 Add to cart
$6.25-24 Candies

This is the large package of our popular Indonesian candy.
We also sell this in a small box
Sina Ginger Candy from Indonesia is made using all natural ingredients: a simple formula of ginger, cane sugar, and tapioca starch.
Ginger has long been known for a wide variety of health benefits: everything from helping with digestion, to a natural breath freshener, to an aphrodisiac.
Each candy packed in a modern foil packet. You get 24 candies per bag.
Smooth, chewy texture (slightly thicker and heavier than taffy), with excellent spicy taste that lingers after you've eaten it.
For peace of mind & tranquility, you can also add 1 candy to a cup of hot water to make a soothing drink.
Each candy is wrapped in a beautiful foil wrapper, and the candies are fairly large (1 candy is about the size of 2 gummy bears).
Ingredients: cane sugar, ginger, tapioca starch.
Product of Indonesia.
You Might Also Like Our Other Candies