10" Bamboo Skewer, 2 x 100 ct
10" Bamboo Skewer, 2 x 100 ct
Add to cart
2 x 100 ct - $3.49

Our bamboo skewers are made in Thailand to the high standard that the street vendors require, so they won't burn up and/or sag when put to use. They are a nice and thick 3mm diameter.
We love to make Pork Satay with these high quality bamboo skewers, 10" size is perfect for that.
Also see them used in our recipe for Thai Sesame Chicken Kebabs.
Use the skewers for all sorts of food preparation, and other things too.
Product of Thailand.
---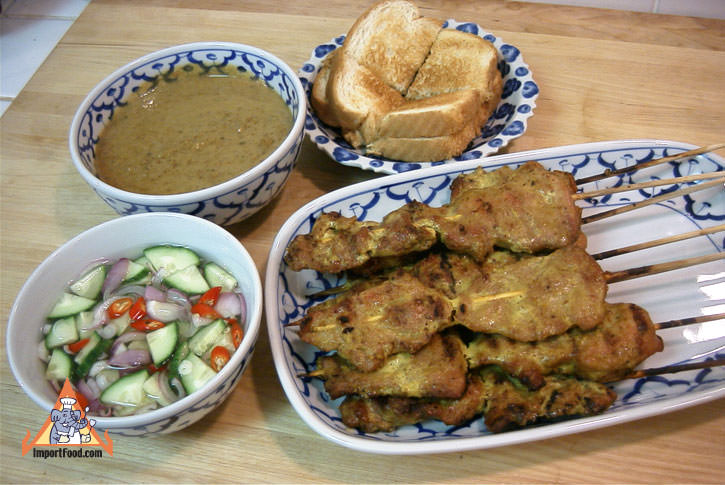 Thai Pork Satay, 'Moo Satay'
Pork satay consists of strips of marinated pork on bamboo skewers, charcoal barbequed then served with a tasty peanut sauce and a white vinegar cucumber sauce. It's often served in Thailand with squares of toast, as shown in our recipe here. We made pork satay in the true authentic Thai style, which is time-consuming. Be sure to baste your satay as it's on the barbeque, note from our street vendor video (below left) he is constantly basting. It seems that most of the time, this style of satay is made with pork, but you can also find chicken satay and prawn satay. We offer a ready-made satay mix that's quite good for both chicken and pork.
Recently we had a fantastic meal using this recipe, prepared with our high-fat Chaokoh coconut cream rather than coconut milk, and we omitted the peanuts altogether which led to a very rich, slightly spicy satay full of true Thai flavors (see pictures below right).
There are four different things you need to make: marinade, basting sauce, satay sauce, and ajad.
---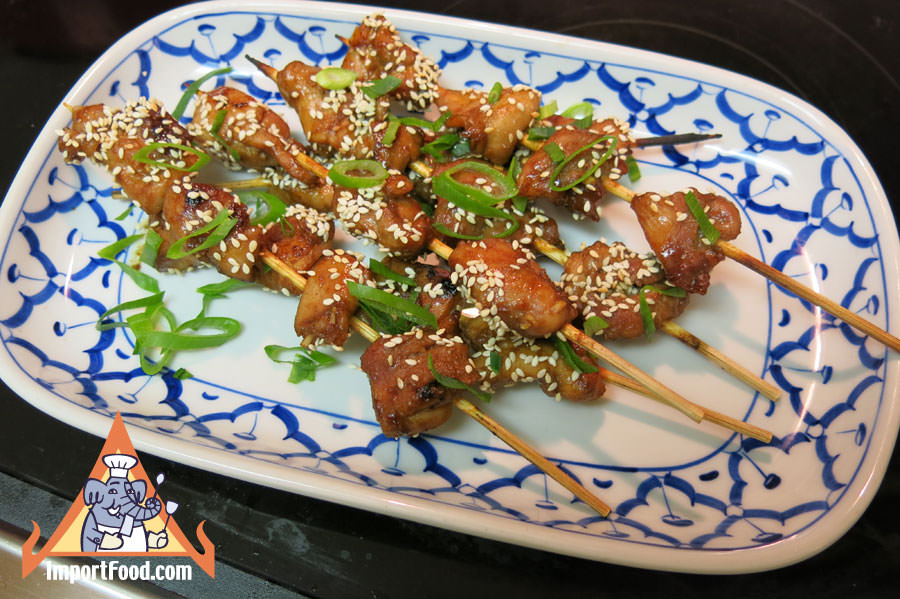 Thai Sesame Chicken Kebabs
We discovered this recipe in the April/May 2013 issue of Fine Cooking Magazine, and it had an instant appeal. We love skewered Thai food, and this recipe calls for key ingredients that we import in the finest brands. We modified it slightly to make it less salty. Serve as an hors d'oeuvre, or as a main course for dinner. If using wooden skewers, soak them for at least 20 minutes before threading.
---