Thai Sesame Chicken Kebabs

Thai Sesame Chicken Kebabs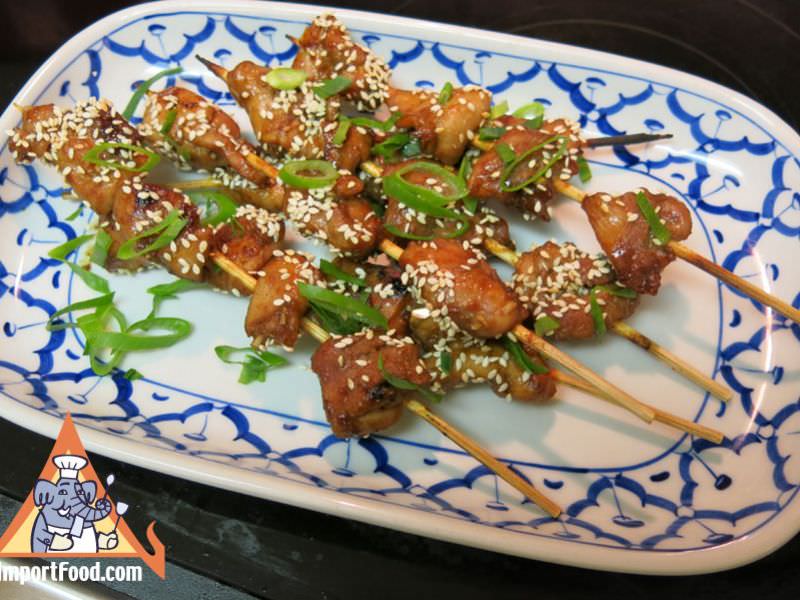 We discovered this recipe in the April/May 2013 issue of Fine Cooking Magazine, and it had an instant appeal. We love skewered Thai food, and this recipe calls for key ingredients that we import in the finest brands. We modified it slightly to make it less salty. Serve as an hors d'oeuvre, or as a main course for dinner. If using wooden skewers, soak them for at least 20 minutes before threading.
Method for Thai Sesame Chicken Kebabs
Position a rack about 6 inches from the broiler and heat the broiler on high. Line a large rimmed baking sheet with aluminum foil and coat the foil with cooking spray.
In a medium bowl, combine the hoisin, sherry, soy sauce, oyster sauce, garlic, five-spice powder, and ground Thai chile peppers.
Trim and cut the chicken into 1-inch pieces. Add the chicken to the sauce and toss to coat. Thread the chicken onto 6-inch bamboo skewers, using 3 to 4 pieces for each skewer and leaving some space between the pieces. Arrange the kebabs in a single layer on the prepared baking sheet and broil until well browned, about 6 minutes. Flip and continue broiling until the chicken is cooked through, about 4 minutes more. If the chicken begins to burn, move the rack down one level.
Transfer the kebabs to a serving platter or dinner plates, sprinkle with the sesame seeds and scallions, and serve with steamed jasmine rice.
Thai sesame chicken kebabs

Reviews