5 Inch Thai Granite Mortar and Pestle
5 Inch Thai Granite Mortar and Pestle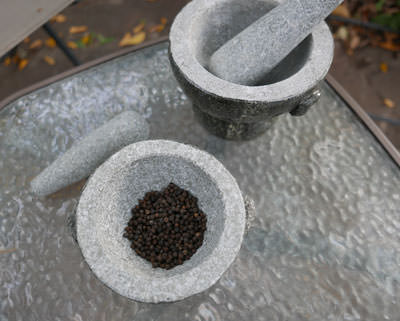 Add to cart
Temporarily Out of Stock

Our new 5 inch size offers the same great performance of a heavy pestle and extremely hard stone to pound in, and it's more convenient for smaller kitchens with less counter space.
Capacity is 1 cup. The mortar is carved by hand of the same hard granite we've always offered.
See more information about the handmade granite mortar and pestle and larger sizes we sell here.
Shown here together with the 6 inch size for comparison, with our fresh black peppercorn ready to pound.
Made in Thailand of the highest quality 100% hand-carved solid granite, this durable mortar and pestle is an important tool for Thai cooking as well as around the world. We source the raw material from the finest granite quarry. Our charcoal-grey granite is not only the most functional tool in your kitchen but also a striking work of art.
Made in Thailand.