Black Peppercorn - Fresh Harvest
Black Peppercorn - Fresh Harvest
Add to cart
$4.00 - 1 oz pack

This is another new, fresh shipment -- the black peppercorn are as good as ever. Just picked and dried within weeks. Freshly packed. We will ship your order right away..
See our new recipe for Black Pepper Seafood Soup below.
This small new batch of black peppercorns came from the Central Highlands of Vietnam with rich soil and ideal conditions.
Fresh, bold citrus pepper flavor that you likely haven't tasted before -- these black peppercorn from an area of Southeast Asia for premium quality for hundreds of years, were just harvested.
Being so fresh, the flavor is a sensation in itself. You'll never taste a fresher black pepper.
Grown on a small family farm and picked at peak maturity then dried for two days and sent along to us right away, we have just a few pounds.
We've packaged it in a Food Saver as shown, 1 oz or about two tablespoons.
For best results crush the pepper in a granite mortar and pestle and serve rough, revealing the full flavor. Also works great in a traditional peppermill grinder.
---
Fresh harvest black peppercorn in our seafood soup and Steak recipes - highly recommended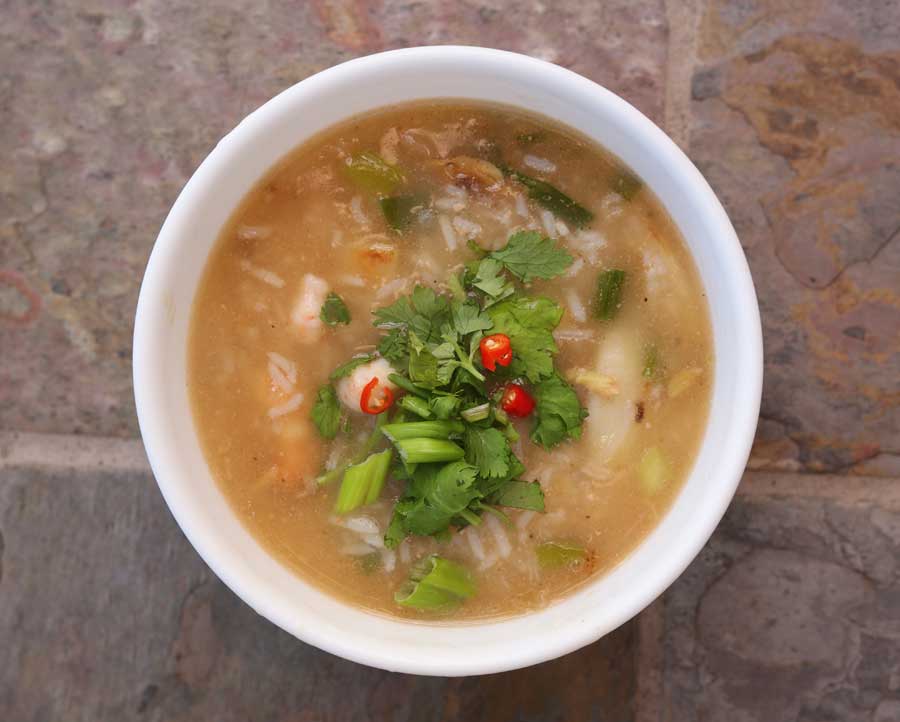 Firm Rice Seafood Soup
This is a masterpiece seafood soup. You might be surprised it came from your kitchen, with such a nice blend of elegant flavors and texture. Here we demonstrate all the tricks to make it just right. The slightly firm rice, rather than the typical mushy congee, makes it distinctive. The trick is to fry the rice when it's still dry, as we show here.
---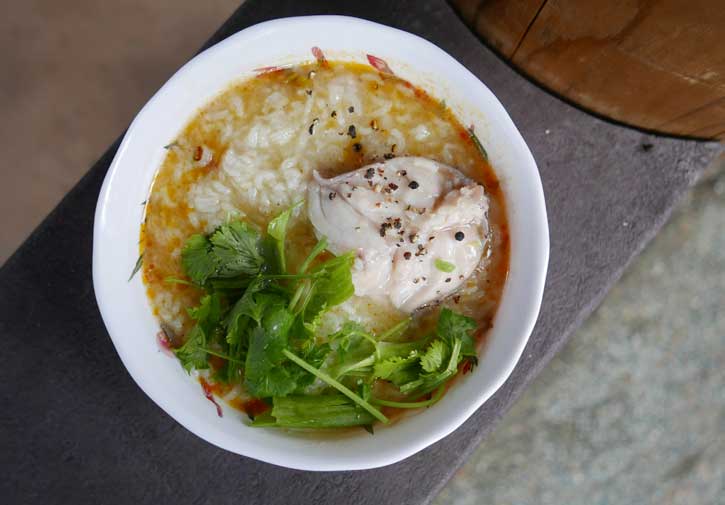 Black Pepper Seafood Soup
Very simple seafood soup that you can easily master tastes like what a professional chef prepares for a royal guest. Use good quality seafood and be sure to garnish with a healthy dose of fresh black peppercorn.
---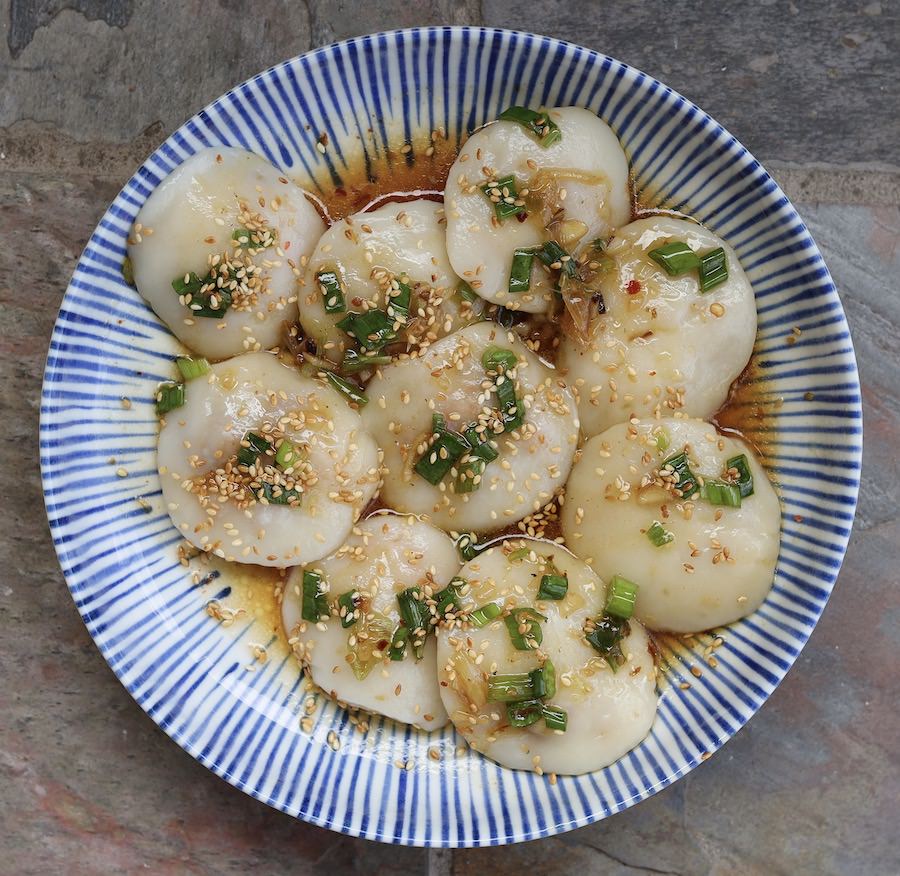 Dumplings w/Pork Shrimp Ginger Sesame
Spectacular dumplings are easy to make.
Lots of ingredients involved but follow our detailed instructions & work sequentially; it won't take long to become an expert and amaze friends & family with your ability to make the best dumplings.
We enjoyed making this here with fresh young Hawaiian ginger but any ginger works well too.
This recipe makes about 15 dumplings.
---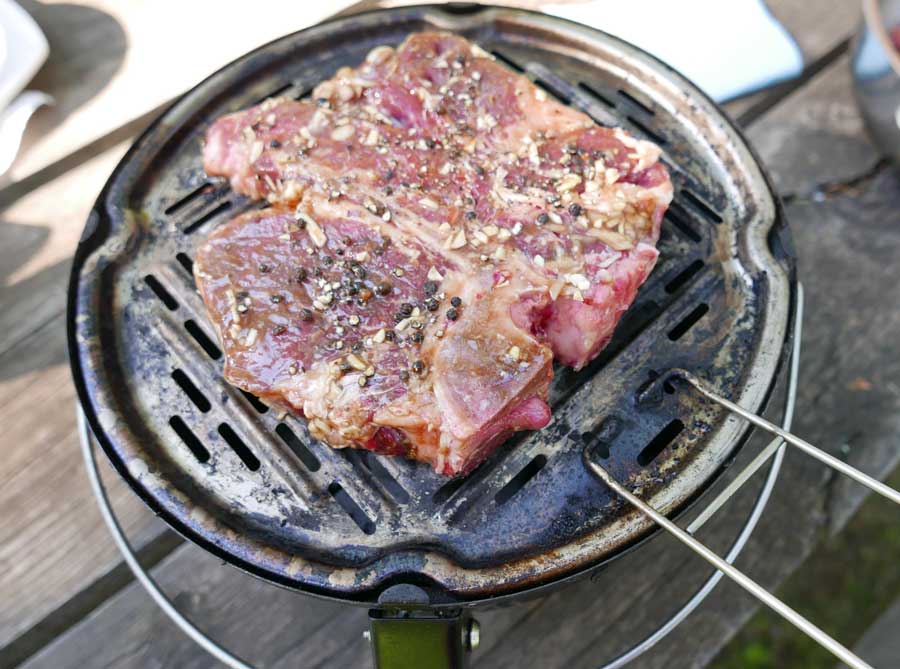 Black Pepper Steak
Covering a steak in freshly-crushed black pepper, we create here a simple delicious barbecue that highlights the natural great beef flavors.
Black pepper and steak go so well together so use it generously.
This is our second recipe using black pepper, also see Black Pepper Seafood Soup.
Here we used a T-bone steak.
---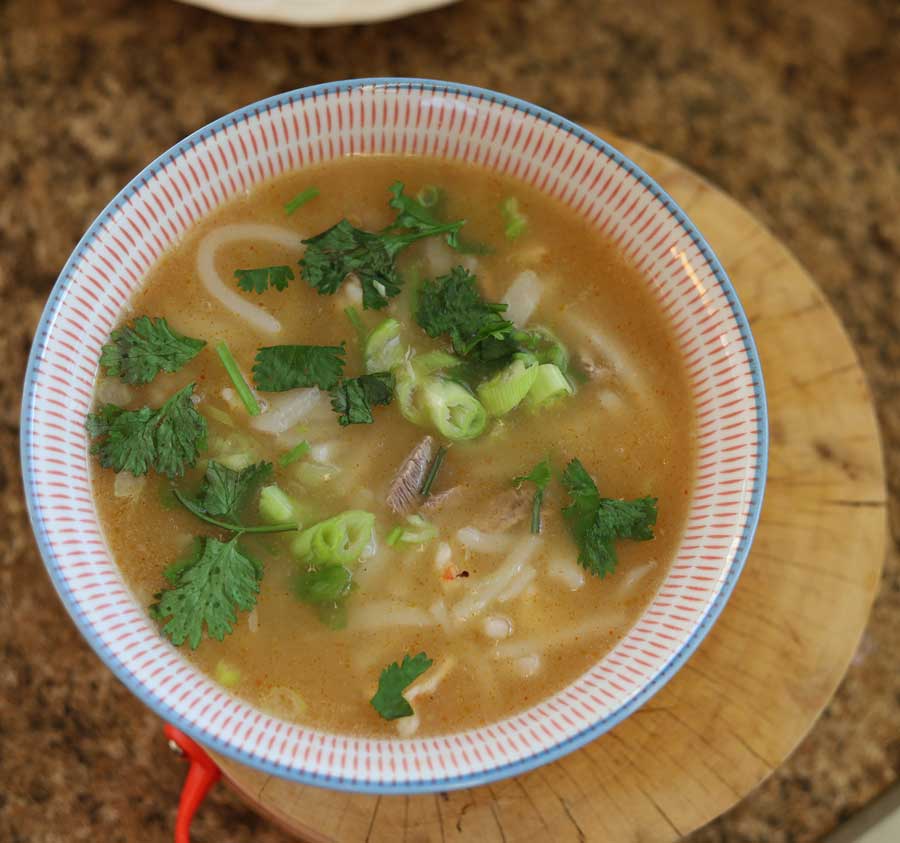 Thai Chilli Garlic Udon Soup
Very simple, rich and healthy soup using udon noodles, which have become very popular in Thai cuisine, together with our Ground Chilli with Fried Garlic paste. Feel free to use chantaboon rice stick if you have that on hand.
---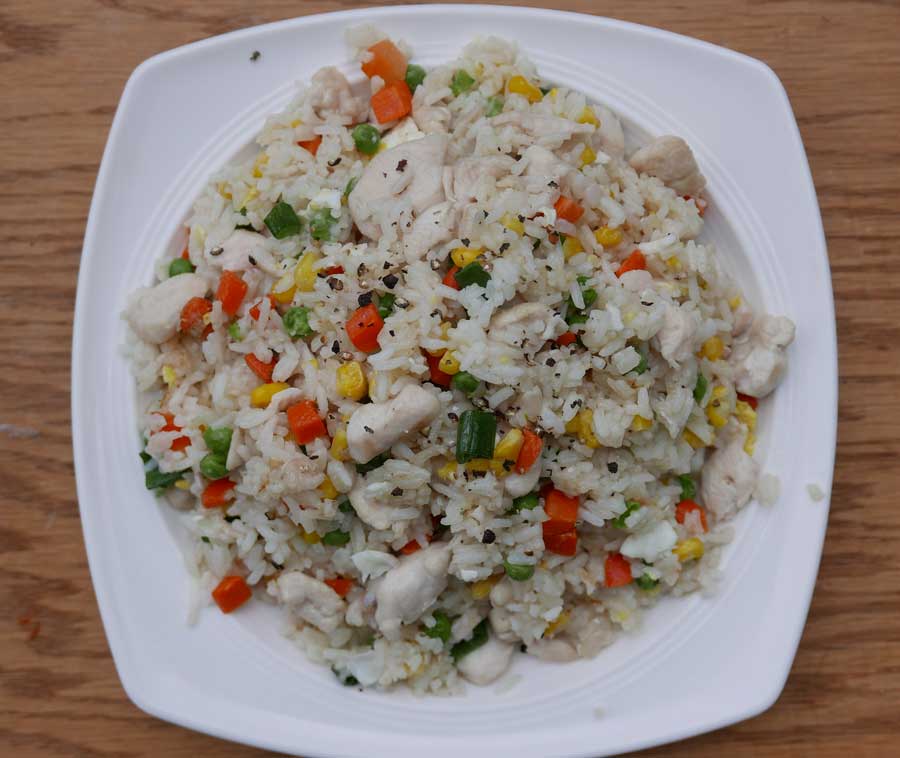 Back to Basics Fried Rice
Fried rice that everyone loves and curiously few know how to make. Here we break it down into just a few basic steps. With a bit of practice this is easily mastered.
---
Sour Bamboo Seafood Tom Yum
Sour bamboo is one of our most consistent selliers. Here's a stellar, simple soup with very distinct bamboo flavor. Use the freshest seafood you can find, and be sure to use pickled red chilli peppers. Such a delicious and healthy result.
---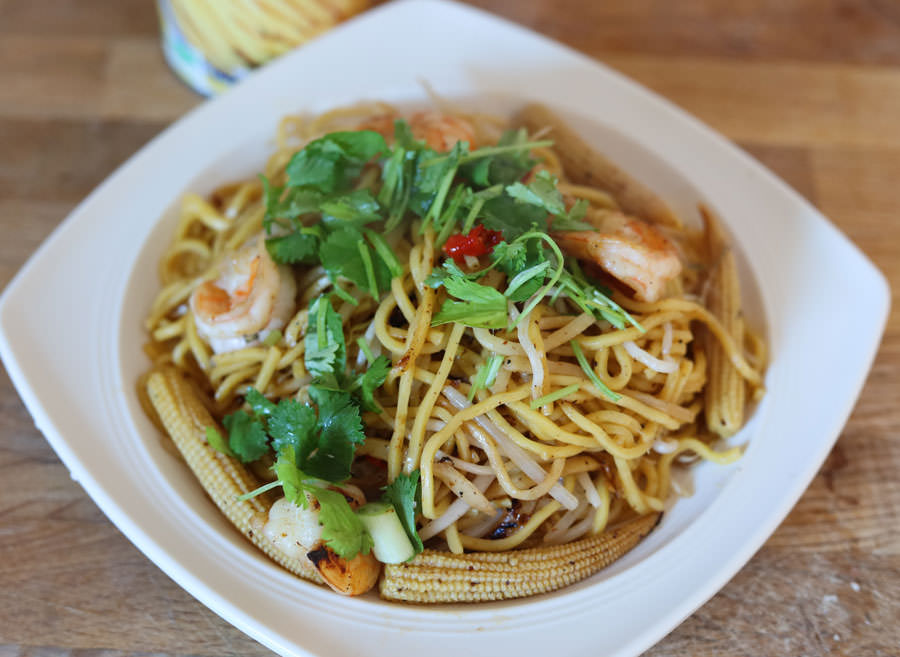 Thai Noodle Bamboo Shoot Stir Fry
This recipe combines the unique flavor and crispy texture of matchstick bamboo shoots, baby corn and noodles in a stir-fry with oyster sauce. Essential Asian dish you may not have thought you could create at home.
---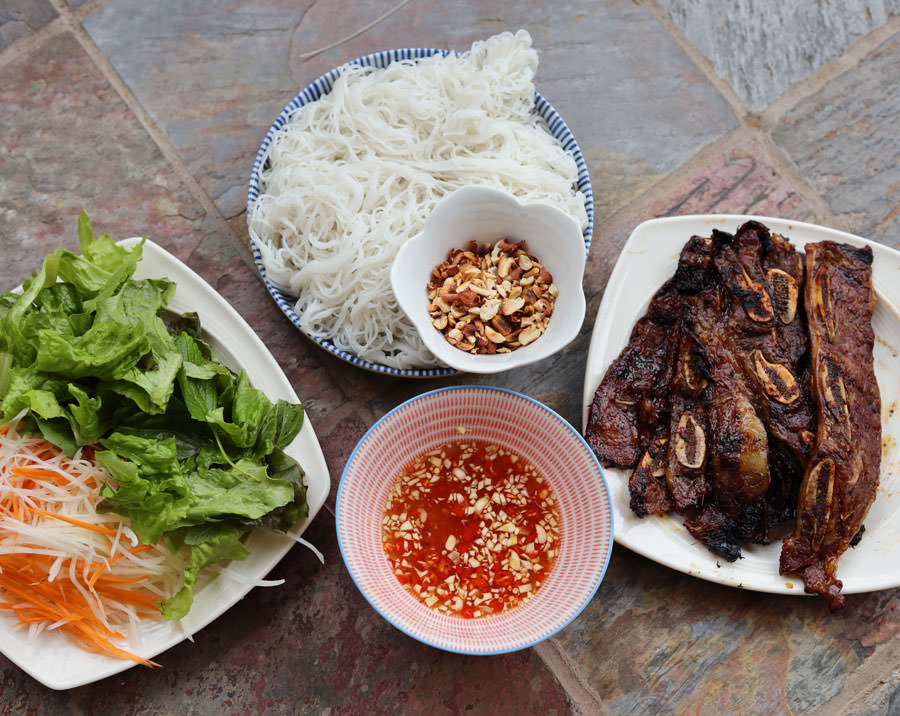 Korean Barbecue Rib Noodle Salad
This is an authentic Asian noodle salad with Korean barbecue ribs. Prepare the various components then place a handful of noodles in a bowl, followed by salad, peanuts, and spoon over everything the sauce. Top with sliced rib meat to complete the salad.
---