Stainless steel Thai food carrier - Zebra Thailand
Stainless steel Thai food carrier - Zebra Thailand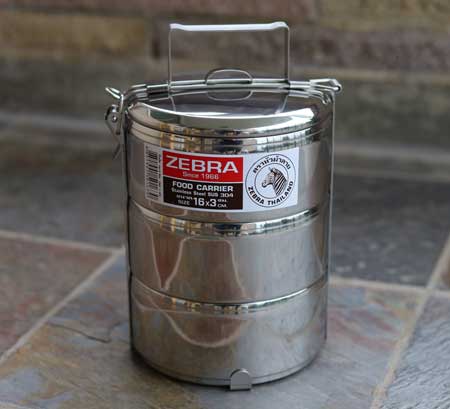 Carefully engineered and made of extremely high quality, heavy-duty stainless steel. This useful food carrier has been a timeless classic long before it was mentioned in Saveur's Top 100, and by Food Network in their Great Giving Top 15 Gadgets. Grist Magazine also did a short story about them as they're good for the environment.
There are interlocking bowls and a single lid on top, held together tightly with a separate handle/clamp/bracket as shown. The bowls are not completely leak-proof but for thick sauces it won't be a problem, and it's meant to stand upright. Add vegetables in one level, rice in another, spaghetti, sandwiches, cold-cuts, whatever you prefer. Zebra Thailand means quality, and this is machined to precise standards.
As everyone becomes more concerned about ways to reduce waste, this product is a great choice for people who may otherwise use disposable lunchboxes, or perhaps a family looking to carry a lot of food on picnics but use the least amount of space. It's also a nice way to promote healthy eating, and an age-old lunchbox used throughout Asia.
We have a wide selection of sizes.
Single Level 14 cm is 3" tall x 5.5" diameter, with and inner dish and foldout handle.
2 Level 14 cm is 8" tall x 5.5" diameter, with two separate 3.5 cup capacity bowls.
3 Level 16 cm (out of stock) is 10.5" tall x 6.5" diameter, with three separate 5.5 cup capacity bowls.
4 Level 16 cm is 13" tall x 6.5" diameter, with four separate 5.5 cup capacity bowls.
Our customer Elizabeth in Boone NC sent the following comment to us via email: "I am really impressed with the excellent quality and versatility of the Thai food-tiffin! And thank you for the exceptional service when I called, and also for the speedy response to my order. Everything was perfect!".
From Karen in Port Richey FL (she purchased one 3 level 16 cm, and one 3 level 10 cm): "My package arrived today and, wow, are the Zebra tiffins gorgeous! I think they're perfect for my intentions (meals in the larger, snacks in the smaller). Thank you so much for the careful packaging. Thanks again for all your help. Have a great day!"
Made in Thailand.
Add to Cart
2 Level Stainless steel food carrier 14 cm. $29.95
Add to Cart
4 Level Stainless steel food carrier 16 cm. $46.95
---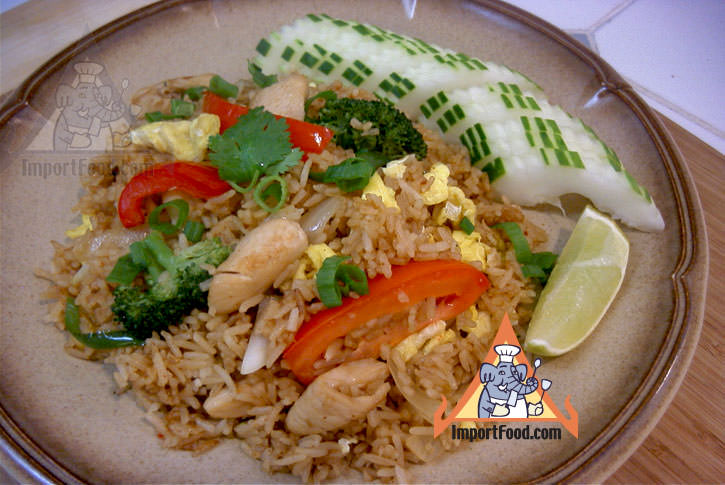 Thai Fried Rice with Chicken, 'Khao Pad Namprik Pao Sai Kai'
Here is a basic fried rice commonly made by street vendors and fine restaurants alike. It's best to use day-old rice that's been cooked and sitting at room temperature (just leave it in the rice cooker for best results). We add roasted chile paste which gives a perfect, authentic flavor which is just a tad spicy.
---