Camping Pot, stainless steel, Zebra Thailand
Camping Pot, stainless steel, Zebra Thailand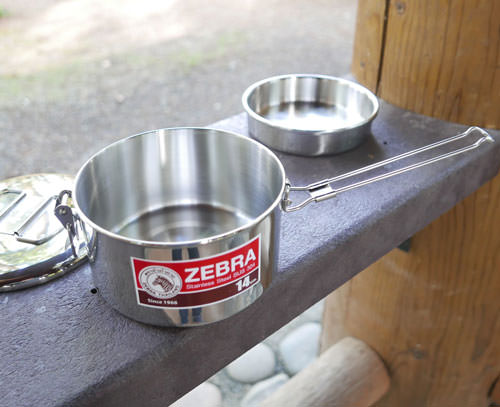 Add to cart
$31.50

An innovative, useful single-level food carrier that's a lot like the timeless classic stacked food carrier we've sold for years.
Called a "Camping Pot", the top cinches tightly down using the hasp as shown, and the top strap flips back and locks into place to make it a handle for cooking.
Inside the pot is a second pan that fits perfectly in place, and lifts right out so you can keep things separate in the top dish. You could easily store rice on the top and soup or curry in the bottom section.
6" wide, 3" tall. Pot holds 4.5 cups, top section holds 1 3/4 cups.
Made with the highest quality, heavy-duty stainless steel, very well engineered Built to last 50 years or more.