Mama brand, Tom Yum Creamy Shrimp
Mama brand, Tom Yum Creamy Shrimp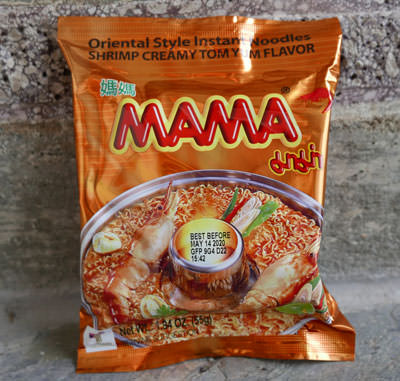 Add to cart
3 Packs $5.85

Mama makes a wide variety of popular instant noodles such as kee mao and classic tom yum shrimp.
Here the tom yum is "creamy" which means that coconut cream powder was added to the mix, along with tapioca as a thickener. The flavor is a bit less spicy also. We love tom yum with a spoonful of coconut milk added (in Thai this is called "sai nam khom"). The soup ends up a creamy white, with bits of red chile oil floating around. The coconut milk adds a lovely new dimension. If you like Mama noodles, you'll love creamy tom yum.
Every package comes with two different spice packets. Just add boiling hot water to the noodles and spices, cover and set for a few minutes.
Ingredents: wheat flour, modified tapioca starch, palm oil, salt, sugar, coconut cream powder, chile powder, msg, citric acid, fresh garlic, lemongrass, kaffir lime leaves, dried leek, shrimp powder, titanium dioxide color, carmel color, thickener (cellulous gum), acidity regulators sodium bicarbonate, potassium carbonate, soy sauce, artificial lime flavor.
Product of Thailand.
---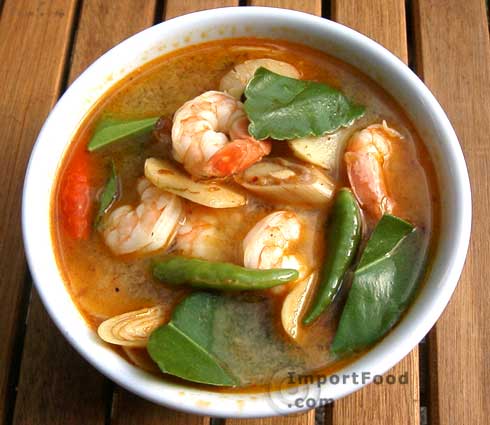 Thai Prawn Soup with Lemongrass, 'Tom Yum Goong'
Tom Yum is both hot and sour, and it's one of the main signature dishes that defines Thai flavor. We've perfected this recipe and assure you it tastes great.
Typically a chef will use a pork or chicken stock then add the basic fresh staples to create the tom yum, as in our video: Railroad Chef Prepares Tom Yum. We like to start with a simple vegetable broth instead, so our recipe starts with the broth instructions then continues with how to make the tom yum.
It's important to use "prik pao" in your tom yum and we have several brands, with slightly varying tastes depending on your preference.
Also -- See Our Thai Street Vendor Video: Thai Street Vendor Prepares Tom Yum.
---