Mama brand tom yum pork noodles
Mama brand tom yum pork noodles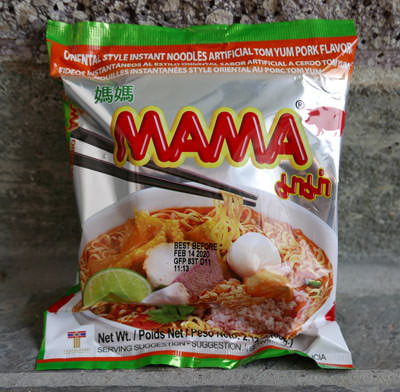 Add to cart
6 Packs $6.85

Mama makes a wide variety of popular instant noodles such as classic tom yum shrimp.
Tom Yum Pork flavor noodles have a unique flavor that's quite popular. Tom yum is hot and sour piquant soup common throughout Thailand.
Place noodles and seasoning packets in a bowl. Add 1.5 cups water, cover and wait three minutes, serve. Adding your own crushed peanuts, fresh cilantro, and a lime wedge is very nice.
Ingredients: wheat flour, tapioca starch, palm oil, salt, sesame powder, artificial peanut flavor, chilli powder, msg, artificial pork flavor (salt, sugar, yeast extract), fresh garlic, citric acid, leek, garlic powder, artificial lime powder, cellulose gum, soy sauce, paprika, oleoresin.
Product of Thailand.