Thai Black Sticky Rice, 5 lbs
Thai Black Sticky Rice, 5 lbs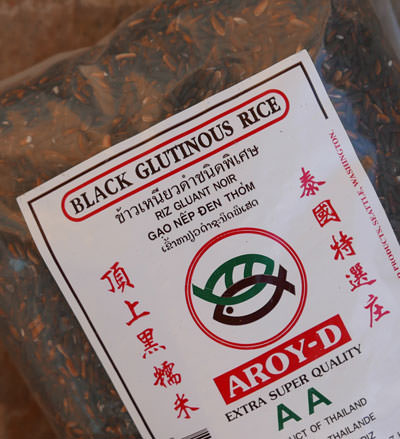 Add to cart
5 lbs - $17.50

Thai black sticky rice is one of the greatest contributions of Thailand to entire mankind--this dessert is so delicious you'll never have enough.

A rare rice that is always quite expensive. Good black sweet rice is often sold for $6 or $8 per lb.
We have the very best 'Ko-Ko' brand in a generous 5 lb bag for a great price.

Prepare black sticky rice in the same as white sticky rice (see recipe below). You can cook it as 100% black sticky rice, or feel free to mix 50% (more or less) with white sticky rice and steam together. The result is a nice consistent purple color, with an earthy flavor.

You get one 5 lb bag, Aroy-D brand as shown.
Product of Thailand.
our complete thai sticky rice kit
---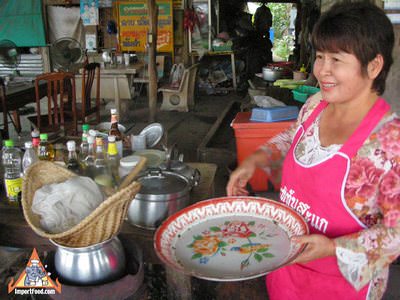 Thai Sticky Rice
Thai Sticky Rice (also known as "sweet rice" or "glutinous rice") is a tasty, sweet rice that does a great job of filling the stomach--but be careful not to eat too much... According to Thai tradition sticky rice can put you fast asleep if more than a couple handfuls are eaten. It is meant to be formed into small balls that you make with your fingers. Then dip it in spicy sauce and let it soak up like a sponge.
Sticky rice is enjoyed throughout Thailand and Laos, and is gaining popularity as more people come to know it's unique delicous taste.
---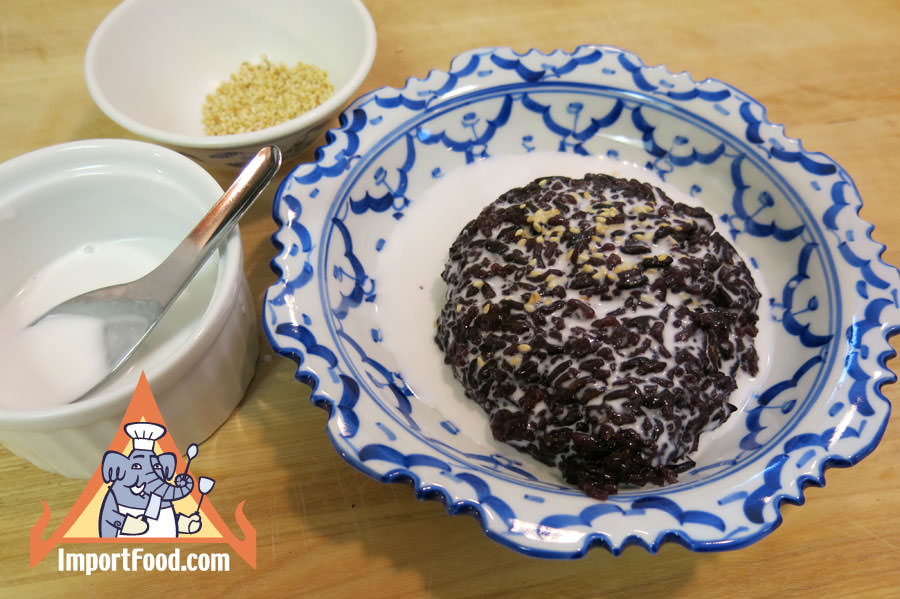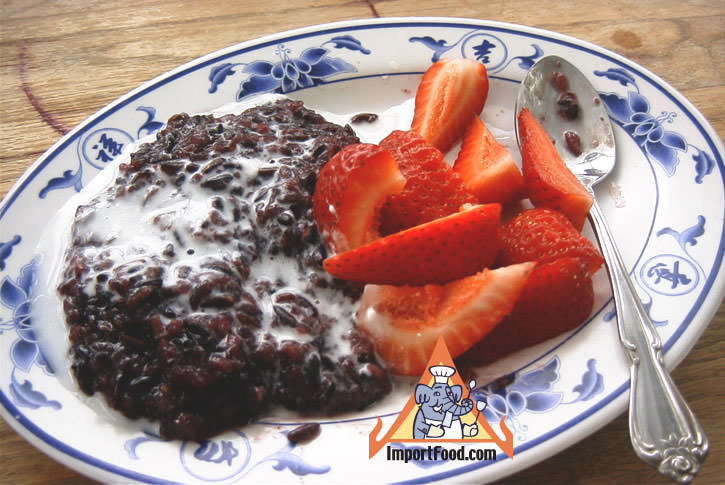 Mixed Sticky Rice & Coconut Milk with Fruit, 'Khao Neeo Dahm Polamai'
We were visiting Bangkok recently and attended a Thai rice exposition, organized on behalf of the King of Thailand, in one of the large convention halls. Here we learned about the process of cultivating rice, various ways to cook rice, and how to distinguish the different varieties of rice grown in Thailand. Of course there was a lot of cooking going on, and one older lady was making a splendid dessert that combined both black sticky rice and white sticky rice. Cooked together it created an unforgettably smooth, and slightly crunchy texture, and the taste was just plain "out of this world". We got the recipe for that, then decided to prepare it at home with fresh raspberries, strawberries, and white chocolate. This is a heavenly combination of flavors, and we really hope you'll try it.
---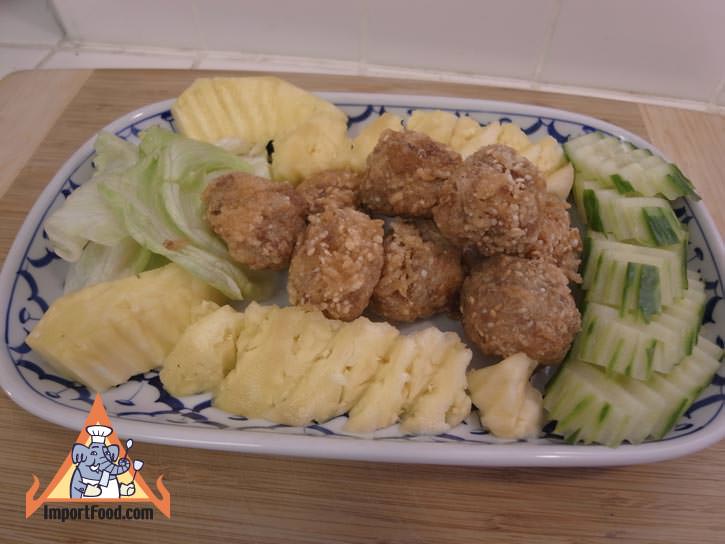 Fried Sticky Rice, 'Kao Neeo Tod'
A wonderful, delicious recipe that's easy to prepare. An authentic Thai snack that may seem like a trendy take on sticky rice but Khao Neeo Tod is found in the oldest Thai cookbook we own. It's been enjoyed for years in Thailand but we've never seen it served outside of Thailand.
---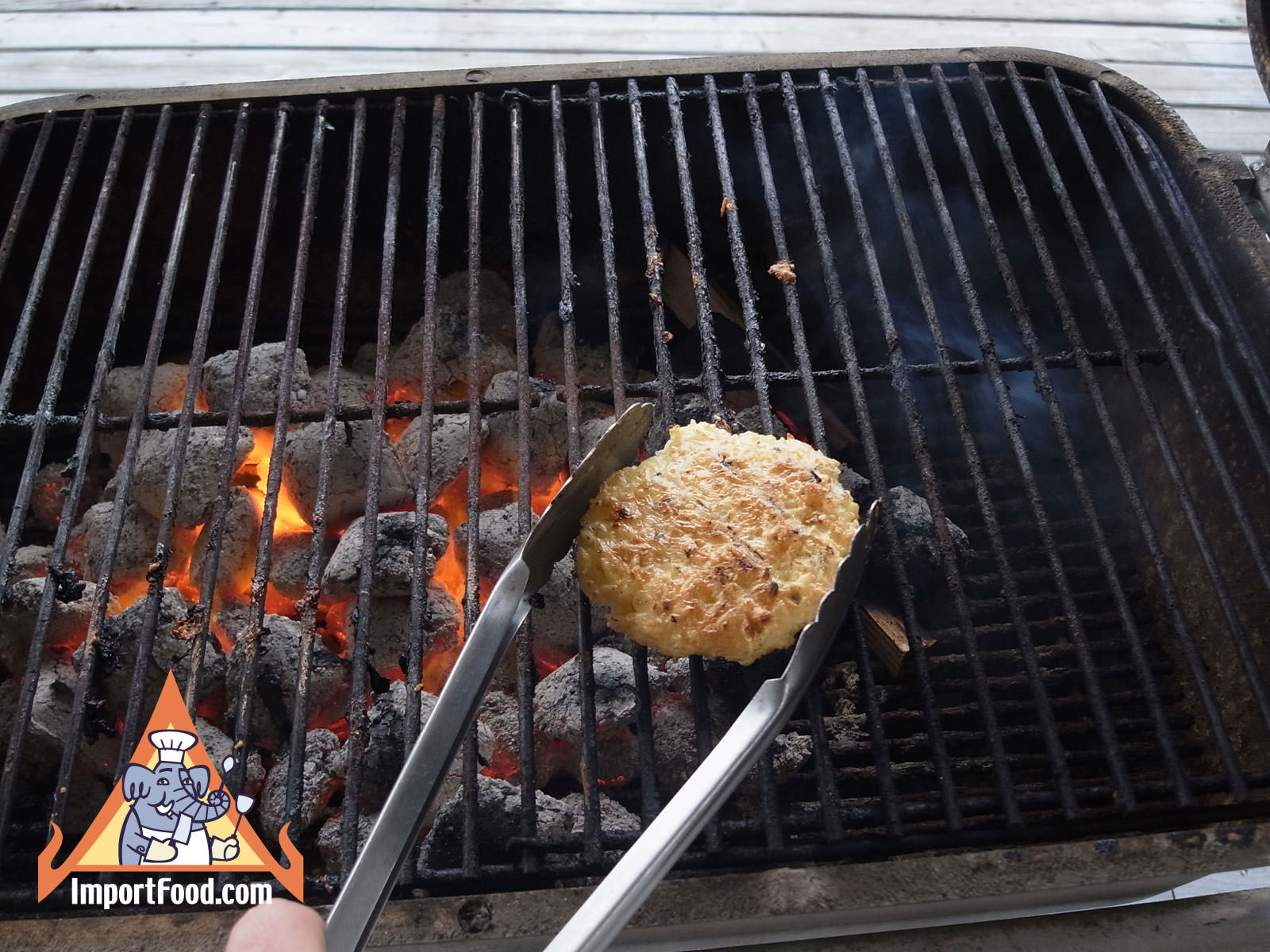 Grilled Thai Sticky Rice with Egg, 'Khao Jee'
This is a popular Northeastern Thai (Isaan) style snack. An exciting and new discovery for people in Bangkok but it's easy to find in Isaan. We know a street vendor in Bangkok that prepares it perfectly, shown in pictures below. The finished result is a snack that's perfectly crunchy on the outside, has a touch of smokey flavor, and a soft inside. Khao Jee can be enjoyed alone, and it also goes great with barbecue pork or moo tod
---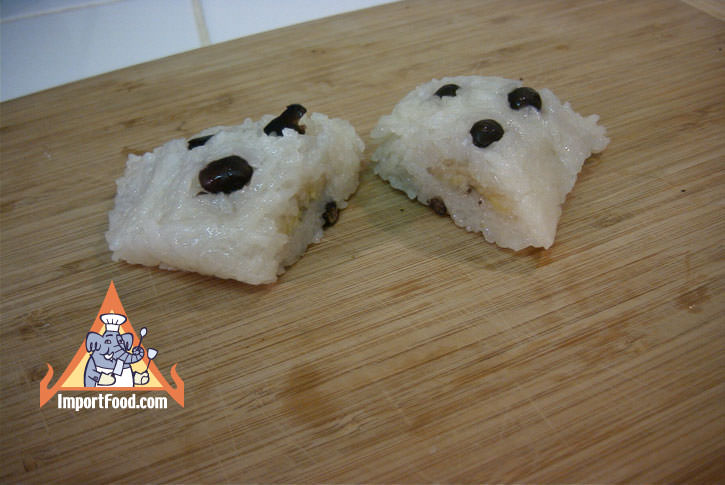 Thai Bananas in Sticky Rice, 'Khao Tom Madt'
In every Thai city and village, the people know and love khao tom mad. It's a vegetarian dish too, so according to our sources it may be impossible to find a Thai person that does not like eating it. Although it's a dessert recipe, this is very filling and could be served as a main course. The black beans are optional.
---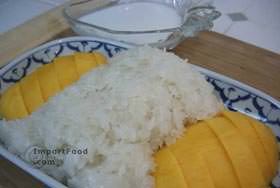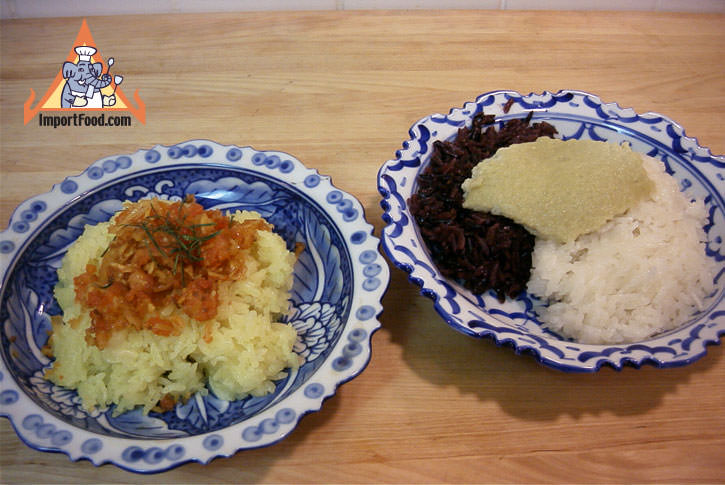 Thai Sticky Rice Steeped in Coconut Milk, 'Khao Neeo Moon'
Khao neeo moon is a truly authentic Thai recipe. Mixing sweet dessert rice with a sugary seafood topping might seem like a bizarre combination that Food Network might sensationalize on one of their celebrity shows. Yet this is a favorite of Thailand found throughout the country, made interesting by a variety of toppings. Here we demonstrate how to make the rice, and two of the more common toppings.
We prepared the rice in three colors. White, black (using black rice), and yellow (white rice colored with turmeric). In Thai tradition, the shrimp topping should go on the yellow rice.
---