Thai jasmine rice, Royal Umbrella, 5 lbs 2021 Crop
Thai jasmine rice, Royal Umbrella, 5 lbs 2021 Crop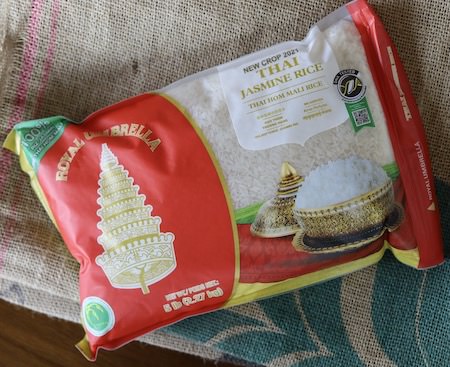 Add to cart
$13.50 Royal Umbrella 2021 Crop, 5 lb

Royal Umbrella recently sent us a small shipment of their 5 pound bags, new crop fragrant Thai jasmine rice. Packed in attractive, strong and resealable 5 pound bags as shown.
This is New Crop 2021 highest quality export grade.
A great deal for anyone that doesn't want a full 10 pound bag, which we offer here.
On the bag are various awards Royal Umbrella has won, including 'World's Best Rice' in 2009. Also note the symbol as being tested for genetic purity, as Thai jasmine rice. See photos below.
Product of Thailand.
We also offer brown jasmine rice, Thai sticky rice , broken rice, and red cargo rice.