Adobo Savory Sauce Mix - Mama Sitas
Adobo Savory Sauce Mix - Mama Sitas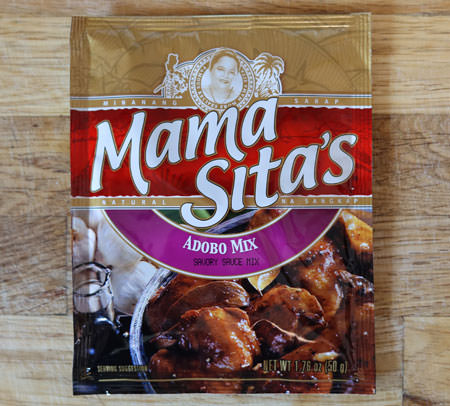 Add to cart
$2.29-1.76oz

Made by well-known high quality producer Mama Sita's of The Philippines. The package states "This garlicky concoction of spices serves as a perfect base for authentic Filipino adobe." We also like the nice peppery flavor to balance the garlic.

Instructions are on the package. See below photos, we prepared this in our kitchen with a nice result. Simply dissolve the package with 1 cup of water and marinade meat cubes for 15 minutes. Then remove meat, pan fry in hot oil. When meat is cooked, add the marinade then bring to a boil. Reduce heat and simmer until sauce has thickened. Serve with Thai jasmine rice.
A nice foil envelope, 1.76 oz. Makes 8-10 servings.
We also offer Citrus-Pepper Spice Mix from Mama Sita's

Ingredients: garlic powder, cane sugar, salt, msg, caramel color and spices.
Product of the Philippines.