Citrus-Pepper Spice Mix Mama Sitas
Citrus-Pepper Spice Mix Mama Sitas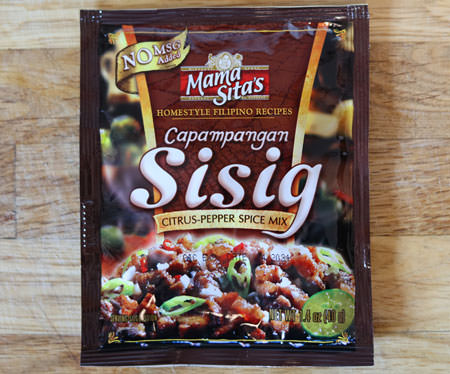 Add to cart
$2.29-1.4oz

We really enjoy the perfect, unique, sour citrus flavor of this combined with pepper and beef.
Made by well-known high quality producer Mama Sita's of The Philippines. The package states "A sizzling delight that zooms straight to the middle of the dinner table: chopped meat traditionally flavored with black pepper soy sauce, citrus & chopped onions. In Pampanga, the meat is boiled until very tender before being grilled or fried."

Instructions are on the package. See pictures below, as we prepared this in our kitchen.
Just finely slice beef and fry it with some chopped yellow onions as shown (the instructions say to fry the beef alone but we added these onions to make it better). After the meat is cooked, remove it from the pan. To this beef, add the sauce (one packet of mix combined with a cup of water). Then add two sliced fresh shallot. Mix and top with fresh Thai chilli pepper and cilantro (optional). Serve with Thai jasmine rice.
We also offer Adobo Savory Sauce Mix from Mama Sita's

Ingredients: lemon powder, onion powder, salt, black pepper, citric acid, autolyzed yeast extract, chili powder, caramel powder. Product of the Philippines.