Satay Sauce, Ayam Brand, 10 oz - Mild
Satay Sauce, Ayam Brand, 10 oz - Mild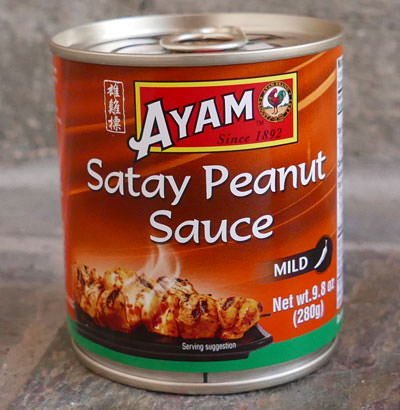 Add to cart
$5.29-5.5oz

This is Ayam's Mild flavor - with less spice and heat. It's very simple to make, all natural, and rich in flavor.
From Malaysia, where satay originated, Ayam Brand has been making this since 1892.
Packaged in a modern can with pull top as shown.

We followed the instructions on the can, with excellent results. Just weave chicken strips onto skewers. Add peppers and onions if you prefer.
Brush chicken and vegetables with a combination of sesame oil, lime juice, and light soy sauce.
Grill until done.
Meanwhile, combine satay mix with 1 cup of coconut milk, and heat over medium heat until reduced and slightly thickened. Serve skewers on a bed of jasmine rice and spoon over sauce.
---
---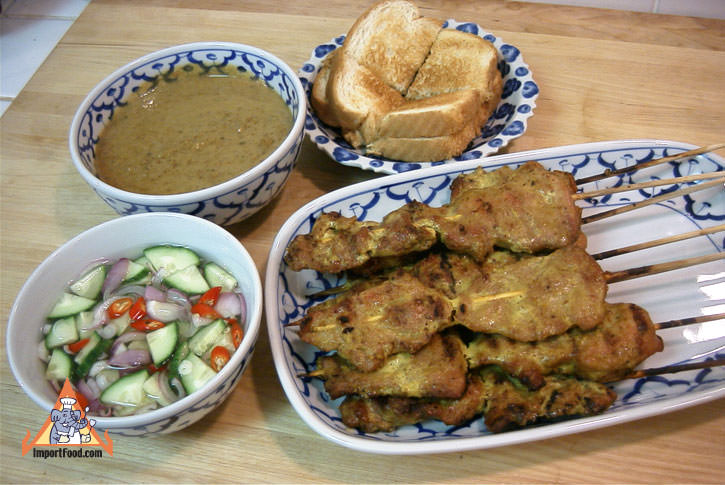 Thai Pork Satay, 'Moo Satay'
Pork satay consists of strips of marinated pork on bamboo skewers, charcoal barbequed then served with a tasty peanut sauce and a white vinegar cucumber sauce. It's often served in Thailand with squares of toast, as shown in our recipe here. We made pork satay in the true authentic Thai style, which is time-consuming. Be sure to baste your satay as it's on the barbeque, note from our street vendor video (below left) he is constantly basting. It seems that most of the time, this style of satay is made with pork, but you can also find chicken satay and prawn satay. We offer a ready-made satay mix that's quite good for both chicken and pork.
Recently we had a fantastic meal using this recipe, prepared with our high-fat Chaokoh coconut cream rather than coconut milk, and we omitted the peanuts altogether which led to a very rich, slightly spicy satay full of true Thai flavors (see pictures below right).
There are four different things you need to make: marinade, basting sauce, satay sauce, and ajad.
---