Thai Pickled Mud Fish, 16 oz jar
Thai Pickled Mud Fish, 16 oz jar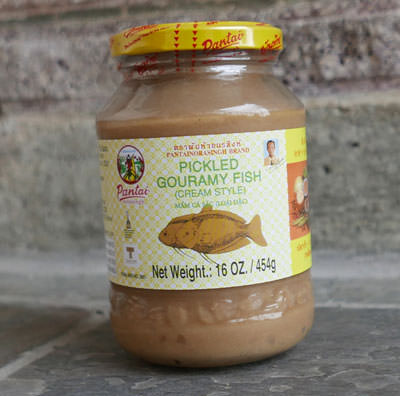 Add to cart
16oz - $14.89

Currently shipping brand new stock: NP Brand, premium quality from Thailand, not "Pantainorasingh" as shown. NP Brand is all natural and it is not Cream Style.
Ingredients: gouramy fish, ground rice, salt. No MSG.
In northeastern Thailand, this is used to add more flavor to papaya salad (som tum). In Thai language it's known as "Pla Ra". An authentic Thai ingredient with a strong smell and particular taste.
Pickled mud fish is fermented for a period of time before packing, and some say it improves with age (like wine!).
Aside from the popular use in som tum, pickled mud fish can be heated with chilli and other spices before serving with jasmine rice, fresh or steamed vegetables, with curry or many other things.
Due to short supply please limit to 2 jars per order.
Product of Thailand.
---
Find this product in the following ImportFood.com Thai recipe