Thai Green Papaya Salad, 'Som Tum'

Thai Green Papaya Salad, 'Som Tum'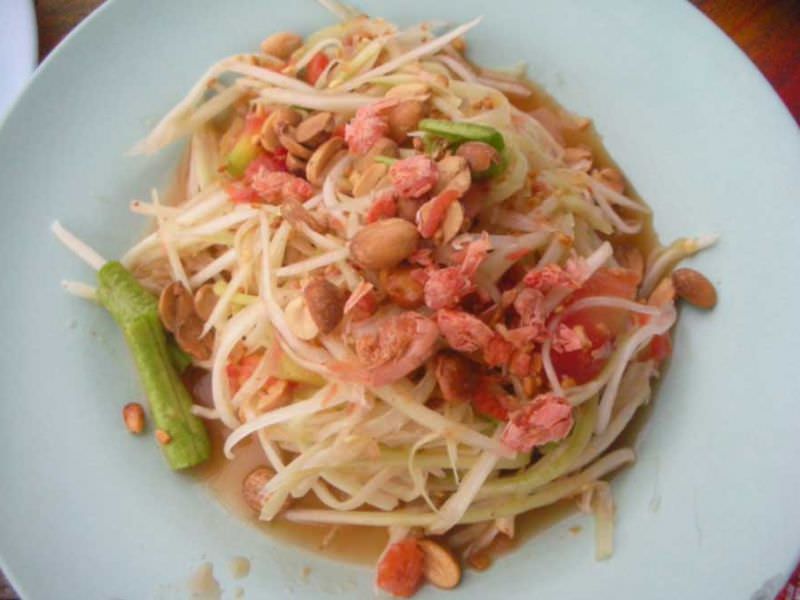 Method for Thai Green Papaya Salad, 'Som Tum'
Somtum is typically prepared three different ways. It can be 'Somtum Thai' which has peanuts mixed in, 'Somtum Bu' which has small pickled crabs pounded in, or 'Somtum Lao sai pla ra' which includes the juice of pickled mudfish.
We also offer a very simple pre-made som tum sauce that you can add to the papaya, for quick preparation.
Peel fresh green papaya, rinse the white milk off, pat dry, then shred the whole papaya. Sprinkle with a bit of salt then rinse it off and drain. Keep 2 cups shredded papaya out, and put the rest in a sealed container for later use. Slice tomatoes thinly.
In a clay Lao-style mortar & pestle, coarsely pound the fresh chiles (whole) and garlic. Add string beans and sliced tomato, and pound it lightly (do not over-crush). Add dried shrimp, fish sauce, palm sugar and lime juice. Add these items spoon-by-spoon, and taste as you go. If you want to add peanuts, add now and lightly pound (optional). If you want to add pickled mud fish (pla ra), add two tablespoons of juice (optional).
Add shredded papaya and pound together until mixed well. Serve on a dish with fresh cabbage and string beans on the side. Enjoy!
Here's our new feature story on a modern take on Som Tum: Jungle Salad.

Reviews