Fresh Shallots
Add to cart
16oz - $12.95 via 2 Day Shipping (Reg $16.95)

Great Deal for these very fresh shallots. Shown here on the plate is 12oz, less than the 16oz we ship with each order.
Grown in Oregon in excellent climate, and shipped all over the world (notably Japan and Korea -- prized for the high quality). These are export quality and could not be fresher, as they were just harvested.
The outer skin is red / slightly brown like a normal onion, but peel back two layers and see the rich purple color of the inner layers. The white flesh of the onion is succulent.
Shallots are used in a wide variety of Thai recipes found in our recipe section. Some of our favorites:
Thai Bamboo Noodles
Khao Soi, Chiang Mai Curry Noodles
Lao Style Beef Salad, 'Pra Nuea'
Pla Duk Foo
Ajad sauce in pork satay
Thai Vegetarian Larb Woonsen, "Larb Woonsen Jae"
Steamed Buns, Salapao
We will ship you 16 oz (about two large handfulls), protected to ensure good arrival, and sent via 2 Day shipping. Size varies a bit, but they are generally 1-2 inches long, and the outer layer may show a bit of greying which is not uncommon for shallots, and is easily removed then you can use the inner flesh. Do not refrigerate, set on counter and use within a few weeks.
We also offer fried shallots from Thailand
---
---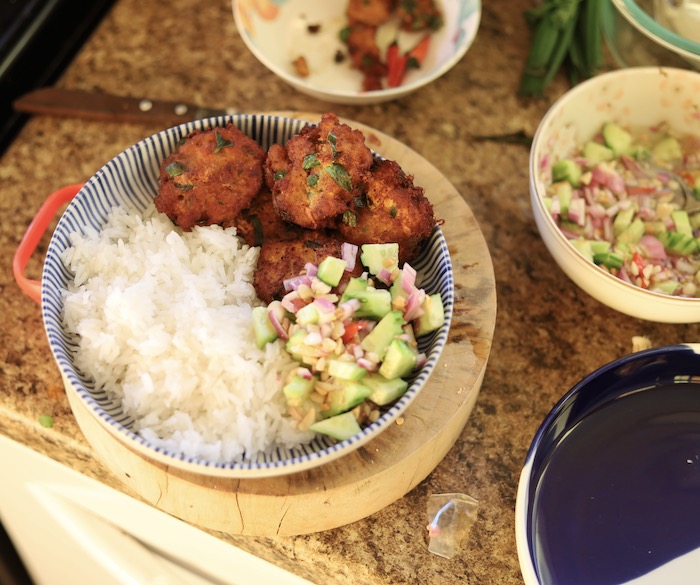 Spicy Thai Fish Cakes, 'Tod Man Pla'
Tod man pla is one of the most famous Thai dishes but seems to be rarely offered on the menus of Thai restaurants in the United States. We're happy to show you how to make it, step-by-step, with great results.
Here we just used cod pieces which can found at local supermarkets.

Also see our Thai Street Vendor video for detailed guidance.
---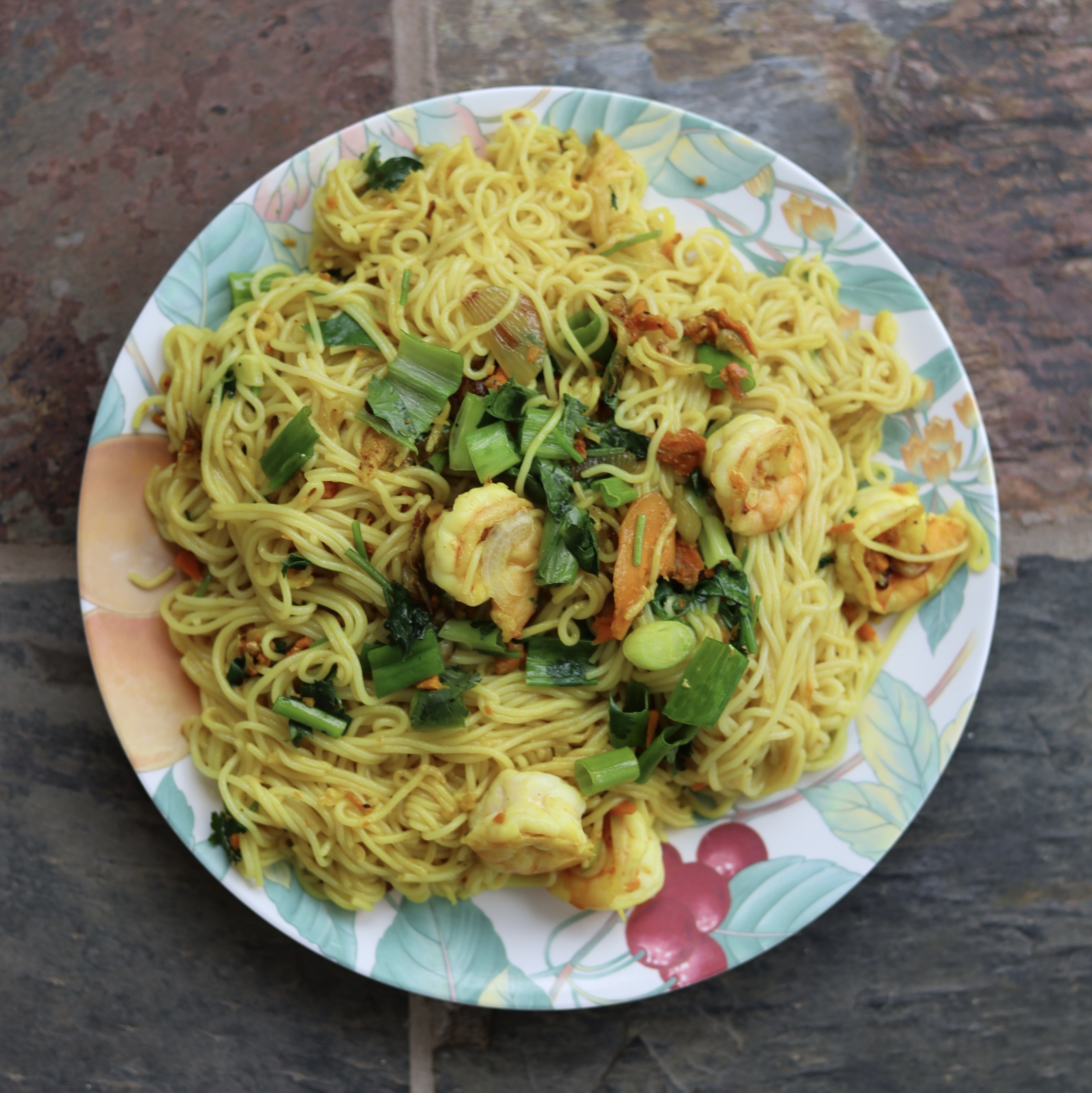 Thai Turmeric Shrimp Noodles
We used large pieces of fresh turmeric for this recipe, creating a healthy noodle dish with lovely yellow color.
---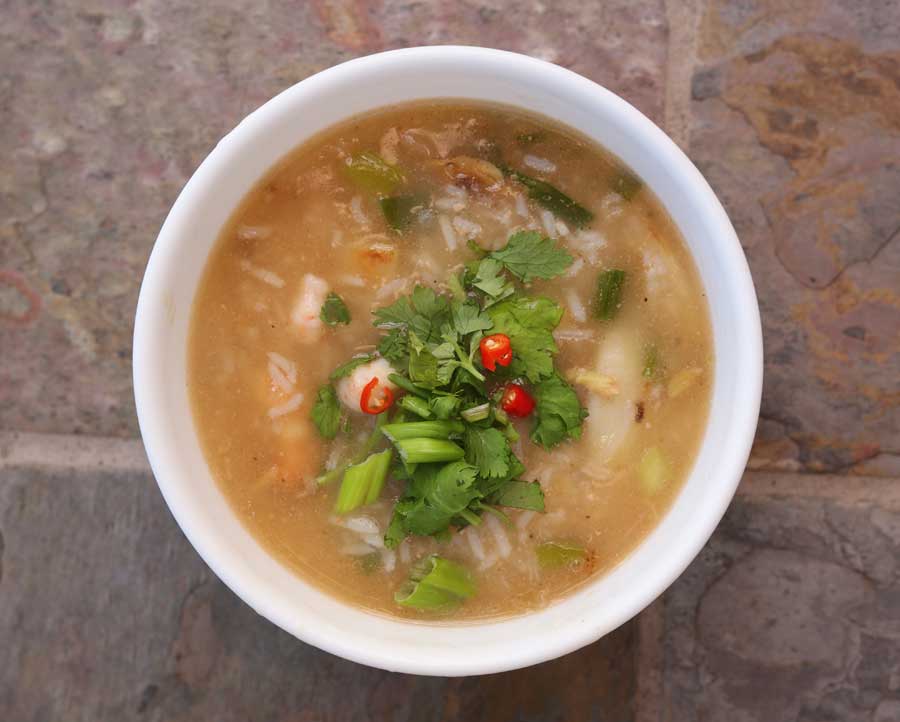 Firm Rice Seafood Soup
This is a masterpiece seafood soup. You might be surprised it came from your kitchen, with such a nice blend of elegant flavors and texture. Here we demonstrate all the tricks to make it just right. The slightly firm rice, rather than the typical mushy congee, makes it distinctive. The trick is to fry the rice when it's still dry, as we show here.
---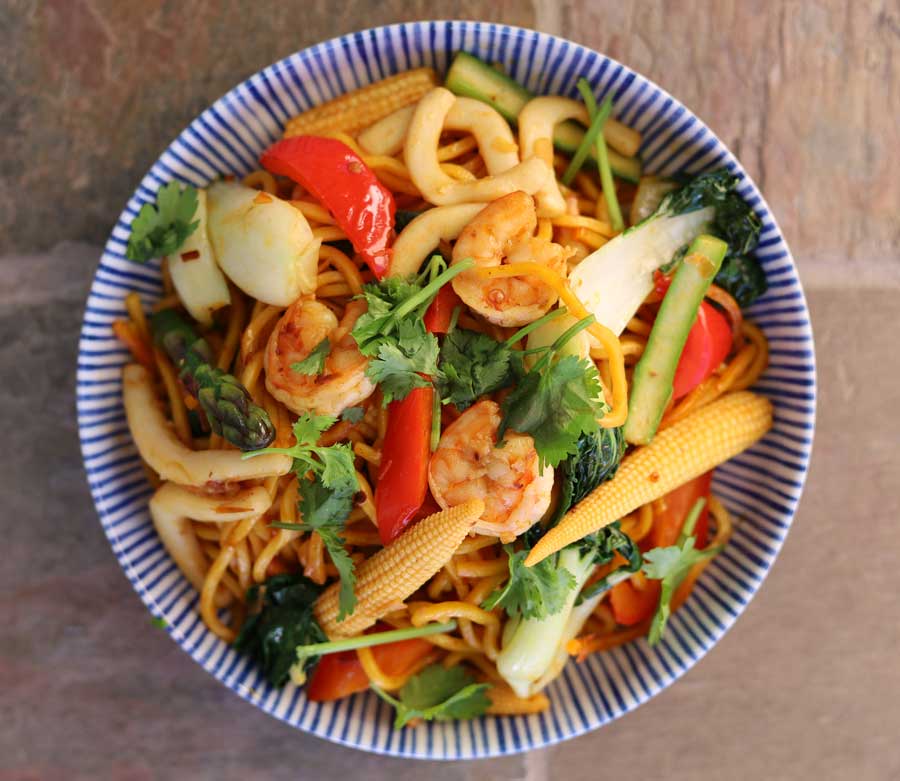 Thai Chilli Garlic Seafood Stir Fry
A basic seafood vegetable noodle stir fry made spicy with our Ground Chilli with Fried Garlic paste. Add at least one teaspoon to give the dish bold chilli heat; we added two which made it very spicy and delicious.
---
---